How to sell memberships and subscriptions on your WordPress site
Membership is like a hot cake these days. Selling digital products with a subscription has never been this easier. Now, You can sell products with subscription and license from one place with membership plugin in WordPress.
Table of content:
Building a membership site on WordPress
Introduction
:
There are lots of ways to manage subscriber in a membership site. In WordPress, there are varieties of plugins available to manage membership and subscription. Usually, everything follows a common rule for the membership. But everyone wants simplicity, which is the key to complex less management of membership site.
So, choosing a product or service that user need periodically is the first steps for making a subscription system successful. If you choose a product or service which have no needs after one or two times of the use, then the subscription system will not suitable for this kind of products.
Now, you have to make sure that the subscription product you're using is something customers will need periodically. You can also make several subscriptions for any one time products, like if you sell washing machine on your site then you can let your customer subscribe for washing powder for every month with reasonable price. It's a recurring payment that you will get every month. So, you can draw up subscriber personas with what customers would expect from your product. Now you can plan for your subscription system, How your subscription model will look like and choose what the membership plans you are going to provide.
First, let's discuss different membership and subscription models available in the membership business. You can then choose the right model for your business or services.
There are different types of membership can be seen in different place. I will discuss with the most common membership system that will boost your business.
Types of Membership
:
Regular Membership
Trickle-Feed Membership
Private Interactive Membership
Regular Membership
:
In this model, you have private contents for only members who subscribe to it. Members can access the contents from the private area. The user needs to pay the fee for being members of the private membership area or you can open a free membership site with basic contents or product feature. It can be divided into three models base on products or subscription.
Free model

:

The user needs to subscribe to free content on the membership site. You can give away all the free content for the members in free model. Like, if you have products with some basic feature you can provide it to free members and premium feature for paid members.
Freemium model

:

In this model, you can do both free and premium content with one membership model. You can give some free content or product in free membership and put some premium content for the user to purchase them.
Premium Model

:

In this model, the user needs to buy the private membership for contents or products. As there is nothing to give away for free like the physical product or super premium content you can use this model on your site to sell membership.
Trickle-Feed Membership
:
In this membership-type user needs to sign up for once for the private membership area. So the contents are not limited. The members can get all the future contents with the default membership. You can use this model when you launch a site with the premium course for any specific subject and you update the course gradually. Or like you are selling a membership where you will show something throughout the year. So you can use this membership model there.  As the user can always access the future updates of the membership content. In this model, the continual trickle will encourage them to keep learning. They will be paying their membership fee month after month for more contents.
Private Interactive Membership
:
This membership actually serves a good purpose on tutorial types of a membership site. You could sell membership where members can get to you directly, through questions and answers, webinars, coaching calls. You could sell Facebook group membership with this model as an example.
Types of Subscription models
:
Based on product or service you can offer different types of subscription model on your site. I will discuss some basic subscription model below.
Trail/Free

:

In this model, you are supposed to let the user use a premium version of content or product for free for a limited time. It can be one week or month based on your product price and condition. After that, the users need to pay the subscription fee for further using the product or service. For example, You sell Washing machine and offer customer membership for washing machine support. You can offer Detergent for free in the first month and then a recurring price for every month until the user cancels membership. You just ship specific item every month to member address. You can use this model for both digital content and physical product.
Monthly

:

This model is somewhat like the free model with the time of membership payment occurring in months. The user needs to pay monthly for this subscription. You can always choose trial or free model for the first month for this model.
Yearly

:

In this model, the members can subscribe for a whole year with a base price. You can offer a discount for yearly members. So that the user will motivate to purchase this subscription.
One time

:

Usually, In some products, there is a one-time fee. It can be digital products or membership of any contents. Members will pay a very higher amount of the base price to purchase the lifetime subscription.
Scope in subscription for any product or service
:
If you are new to subscription business then you need to build up customer trust first. You can use the trial for the first month for premium products or contents. Then you can charge the subscription fee after the trial period ends. This model is most suitable for membership business with digital contents or products. As the members already aware of the things they are paying for.
I think that's a lot of membership and subscription system. Now you can choose the best solution for membership and subscription for your product or content.
Building a membership site on WordPress
:
Now, let's talk about the best solution to build a membership site with your business model in WordPress. There's a lot of plugins available on the market that will cover your needs. I will discuss the WP Pro Membership plugin. It is one of the best plugins to manage your subscription business simply on the fly.
First, think about the features you need to convert your membership models to an accurate membership website.
Basically a membership site needs:
Multiple Membership Levels

Automatic payment schedule

Automatic membership expiry

Content Protection

Partial Content Access

Post Access Control

Multilevel Referring Promotion

Reporting

Autoresponder
The WP Pro membership gives you all this feature with a simple dashboard options. You can always do more with this plugin functions.
Let's see available options for this plugin.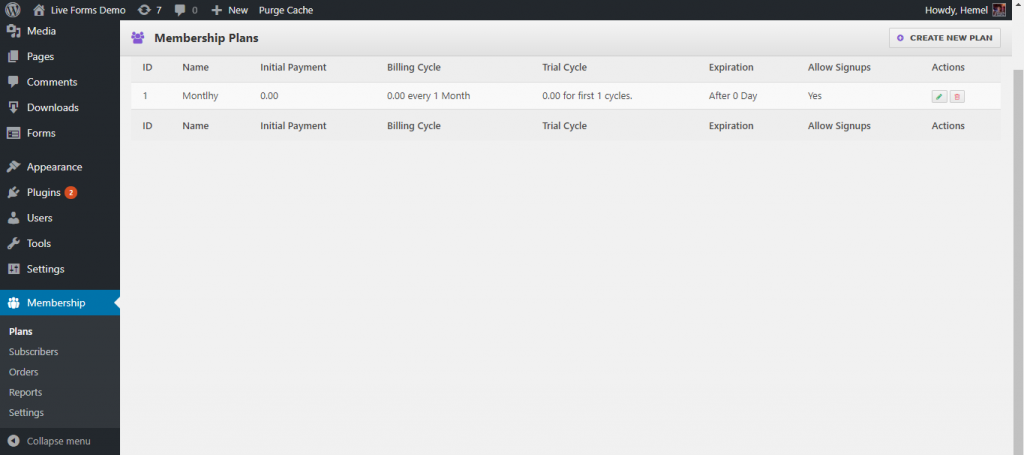 So, Creating the membership plan is the first step. First, you need to define a base price for membership to make a plan on the membership level. You can take one-time payment plan or subscription-based plan with monthly or yearly recurring payment.
Let's look how is the plan page looks like after click on the Create New Plan you will be redirected to plan creation page. Here you can see several options. From billing option, you can control the payment plan of the membership.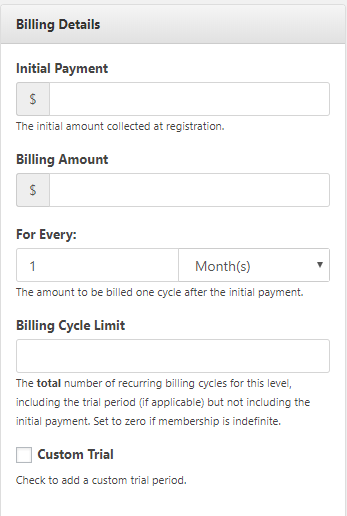 Initial Payment:
You can choose the separate initial price if you want to make initial amount low than base price or give free/trial for the first Day or week or months.
Billing Amount:
It's the base price or the product or subscription for your membership.
Time selection:
You can select membership payment recurring time in days, weeks, months or year from the For every field. The user needs to pay for the membership after the amount of time you put here.
Billing Cycle Limit:
If you want to make your membership product or service for a limited time you can do it with this feature. The members-only can take this limit of membership on your site. After that, the membership will expire. You can put 0 here if the membership you provide is not for the limited amount of time.
Custom Trial:
There is a custom trial option in payment for the trail model I discussed earlier. You can use this feature to make the custom trial model for your membership site.
Plans:
Now, Let's see an example plans that I have made with this plugins.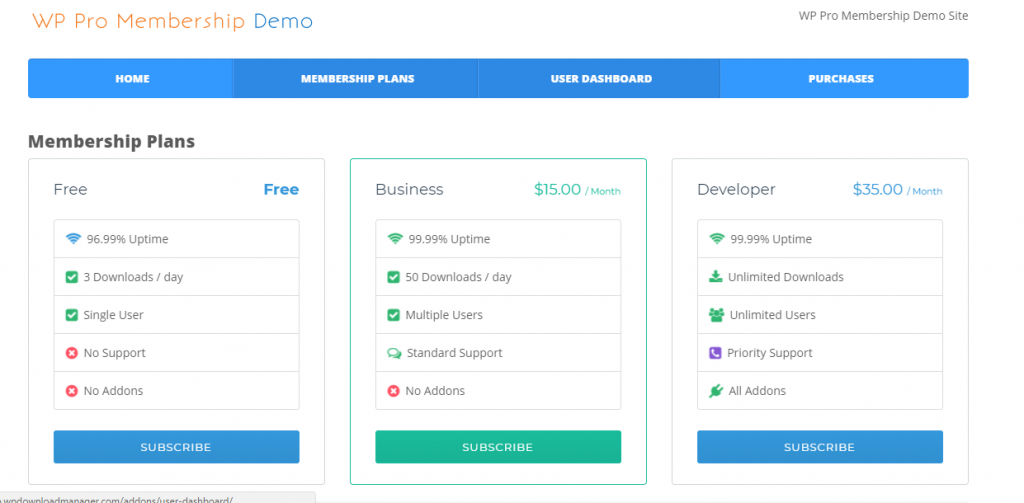 So, we have this awesome plugin WordPress Download Manager that can offers like this with same membership models. You may want to create a digital market where you can sell paid and free content. So you can use this plugin with the membership plugin to make a perfect website for your business needs. You can limit members level download limit, content access and support section access all of this with this simple membership plugin.
Here, I made three demo plans that you can see in the above image. Suppose, I will sell digital products on my site. My products also come with additional add-ons for extra features and support section for free and premium members. I make a free plan with no support and add-on with the free version of any package. So the user can just subscribe to their desire membership needs and get access to all of the content right away.
You can see below how it protects all other membership contents with access control. So if any user who has no membership right try to access the premium content will be shown following error.

But in the land of the digital market, you need to build trust with the consumer. So. this plugin also comes with an additional feature that members can cancel their premium subscription any time if they lost need further to use it. It builds a perfect relation of trust with the seller and consumer. That they are aware of the billing and other things of the plans.
This is the basic steps to set up subscription plans for your membership site. With this plans, you can start membership site straight away.
Now, You might need the subscription selling reports and subscribers list. This plugin also has details orders dashboard. You can easily find any orders with the search option. Also, the subscribers' option gives you to details list of members list who purchased the subscriptions.


Payments Options:
So how about payment settings? You must be thinking about the available options to take payments from the subscriber. The plugins support all the major payments platforms. You can find it in the settings section.

You can also find the option to modify emails and custom messages for the membership site in the settings tab.
Reporting:
I didn't mention analytics/reports yet. Yes, the plugin provides a powerful reports dashboard. From the reports menu, you can access all the reports of the subscription plans of the membership site.

There is a graph where you can find visual reports about the signups and cancellations. You can also choose specific things to make custom reports on the graph.

So, that's the easy way to build the membership site with subscription plans on your WordPress site. You can find the plugin here.
Let me know your feedback in comments.