How To Make Customers Love Your Business?
Customers are the main asset of your business. Building a good relationship with your customers not only helps you to grow your brand but also drives your business toward sales. So, it's a crucial thing to have a good relationship with your customers. In order to get this, you have to take the right steps so that your customers love your business.
Well, in this article we will bring some effective ways that help you to get love from your customers to your business and purchase from your service repeatedly.
How To Make Customers Love Your Business?
You may try these six ways to make your customers fall in love with your business.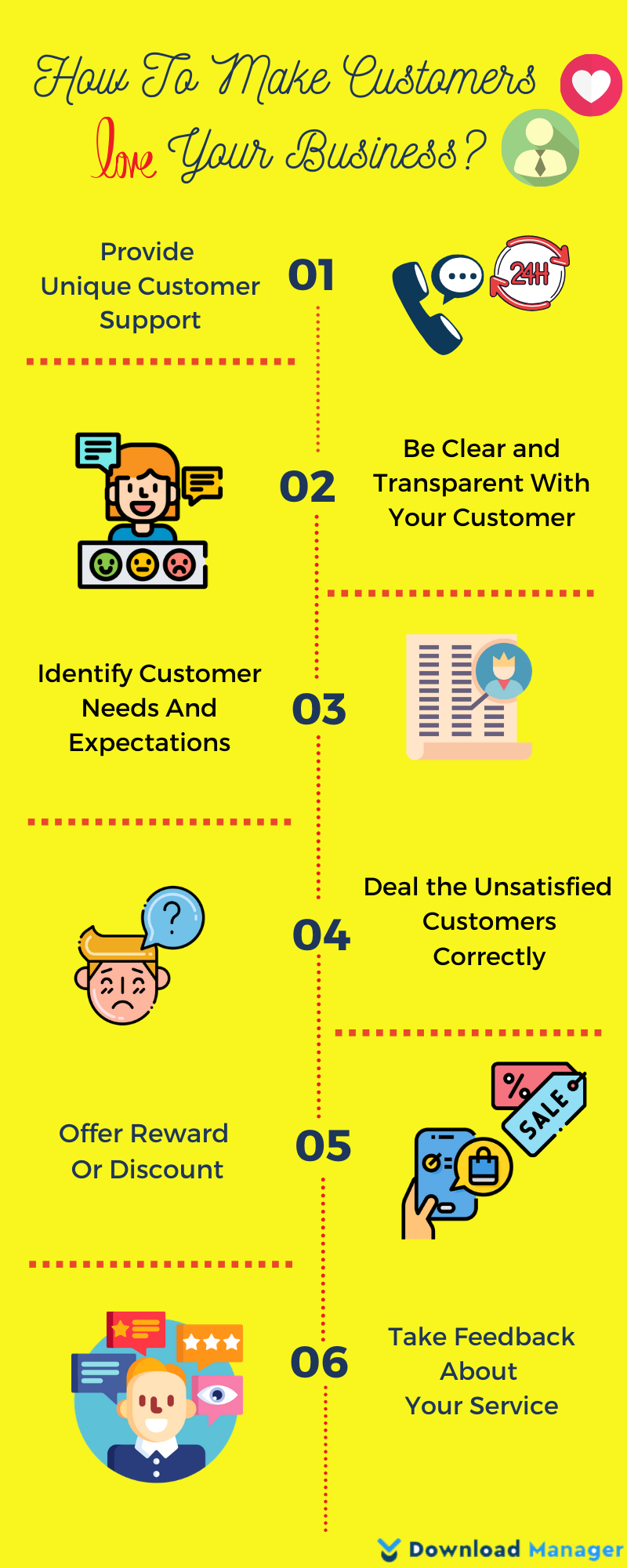 1. Provide Unique Customer Support
One of the best ways to get customers to fall in love with your service is to provide unique customer support. Most of companies give customer support but not 24/7. It's a challenge to provide customers with 24/7 support and service. If you impress your service you can grab the way and provide the desk analysis to be on site all the time so that your customers instantly get their queries answered. Or, you can provide a live chat system on your website to immediately solve customers' problems. 
Once you get attention and are impressed by your service, you can suggest them use your new product or service to get better results. With it, you will gain their trust as well as sell your product. 
2. Be Clear and Transparent With Your Customer
The first and most effective step to fall in love with your business is to be always clear and transparent with your customer. Being clear means your business provides authentic service that also builds trust for your service. Even if you are managing a small business, having transparency with your visitors also increases customer engagement and improves your brand loyalty.
3. Identify Customer Needs And Expectations
Nowadays evaluating your customer expectations is a challenging task. But if you identify their needs and expectations and serve them, your customers must fall in love with your service. On the other hand, if you don't meet their expectation, they will leave your business. So, always try to identify their needs and give them beyond their expectations.
To evaluate what your customer expects, you may follow some ways below:
always talk to them as much as possible.
make a survey or open-end questions and encourage them to participate
make your product and service up to date.
goes yourself with the latest trend.
4. Deal the Unsatisfied Customers Correctly
It's the usual thing that not everybody will be impressed by your service. The main challenge is how you can deal with those customers properly. To solve this issue you take some strategies. First, we suggest you get the review, and ratings about your service from your customers. With the review and ratings, you will figure out the unhappy customers and then take suggestions from them on how you increase the ratings.
Remember, Your plan is not to figure out the unsatisfied customers but also to take their suggestions so that you can improve those issues further.
5. Offer Reward Or Discount
Who doesn't love to take gifts or discounts!!
Giving a sudden gift and discount to your customers is a fruitful way to make love your business. It not only helps to attract new customers but also retains your old customers to purchase again and again. 
You may also introduce a loyalty system that rewards customers who refer to prospective customers or new to your company. These types of rewards treat your customer as special and stay with your business.
6. Take Feedback About Your Service
Asking customers regularly for feedback is an effective way to identify your service problems. It also assists to identify your dissatisfied customer before they cancel to take your service. You have to encourage your customers to give feedback whether it is bad or good to improve the user experience.
With this approach, your customers feel valued by your service. To get the feedback you can take various methods to gather the feedback. Like, you can make surveys, point of scale, and ratings to take feedback.
Now, figure out how you can better the issues and improve customer satisfaction. By doing this, you will improve service quality as well as customer retention rates.
Conclusion
In a nutshell, cultivating a great relationship with your customers drives your company to grow better. So, you have to always try your best and take strategies to make customers love your business.
Hopefully, this article will help you to learn effective ways to make customers love your business. To add more, if you want to track your e-commerce business performance then you can check our 10 important Ecommerce Metrics which play a key role in your business strategy, result, and revenue.
If this article will help you, then please subscribe to our YouTube channel to get more tutorials related to WordPress. You may join our Facebook page to update yourself with more tips, solutions, offers and so on.
We appreciate your further comments, support or suggestions!