10 Important eCommerce Metrics To Track Your Business Performance
Does your eCommerce business go the right way that you've predefined?  Or, Are you facing trouble choosing eCommerce metrics to track your E-commerce business performance?
Well, Building an eCommerce site today is really simple with any platform but running a profitable business has become increasingly challenging as today's generation's rapidly changing preferences.
So, to determine what functions work on your business and what improvements you need to make, there are a lot of important eCommerce metrics you will need to focus on.
Now the question is which eCommerce metrics you should pay more attention to?
Well, In this article, we'll cover the ten most important eCommerce metrics that every e-commerce marketing manager should be focused on. But before let's know why you need to track these metrics. 
Why Do You Need To Track The eCommerce Metrics?
Well, all we know without having a goal is like swimming in the river without any direction. In any type of business, you have to follow the key steps. These are-
Firstly, you must have a fixed measurable goal and plan to enhance your business.
Once you have set your goal, your next step is identifying the necessary metric to track your direction and activities. 
With these metrics, you can check how you can generate improvement to maximize your e-commerce sales.
So, in a word, we can say that these metrics play a key role in your business strategy, result, and revenue.
10 Important Ecommerce Metrics To Track Your Business Performance
Although there are various eCommerce metrics to follow, here we've listed the 10 most important metrics that are widely related to your business's growth. These are –
1. Revenue by Traffic Source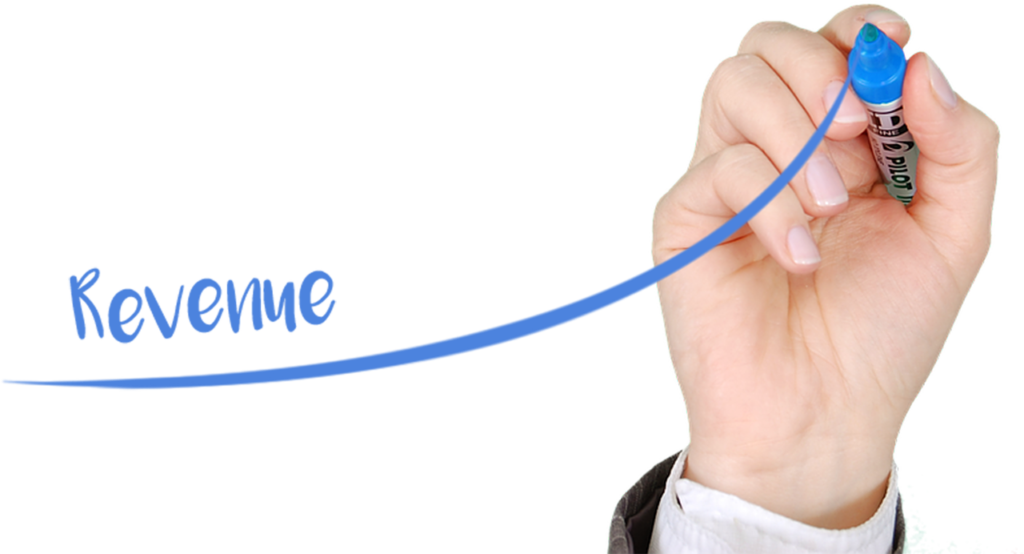 Revenue by traffic source is one of the most important metrics that monitor your e-commerce business behavior. This metric helps a company to find out from which source they are getting the highest revenue. For instance, these traffic sources could be paid, organic search, email campaign, referrals, direct or social etc.
You can view the revenue of each source of your company from the Google Analytics Tool.
Furthermore, you can improve Revenue By Traffic Source by following some tips such as,
Spend more money on the profitable traffic source
Reduce money and effort to the low-traffic source
2. Conversion Rate (CR)
Conversion Rate or Sales Conversion Rate is another important metric for your e-commerce business which is mainly related to your overall sales metrics. Your site's Conversion rate refers to the number of buyers who made a purchase from your site It is calculated by simply dividing the number of customers who purchase from your site by the total number of visitors who visit your site.
To track such metric, you can use the Google Analytics tool. In this tool, you will find your site's conversion rate by going to the Conversions→ Goals → Overview option.
For instance; in your eCommerce site, 250 visitors visit your site and among them, 20 visitors buy your services. so the conversion rate (20 divided by 100) is 8%.
There are lots of ways you can follow to increase your conversion rates. These are:
Optimizing your products with keywords.
Focusing on the quality of your product image.
More clearly describing your product's features, benefits, etc.
Optimizing your page design, style, etc.
Most importantly adding a money-back guarantee.
3. Average Order Value
Average order value (AOV) refers to the average how much revenue you will get from the total number of orders taken by the customers. This metric also helps you to understand your customer's behavior.
In addition, you can measure your site's Average order value by dividing the Total revenue of your site by the Total number of orders taken.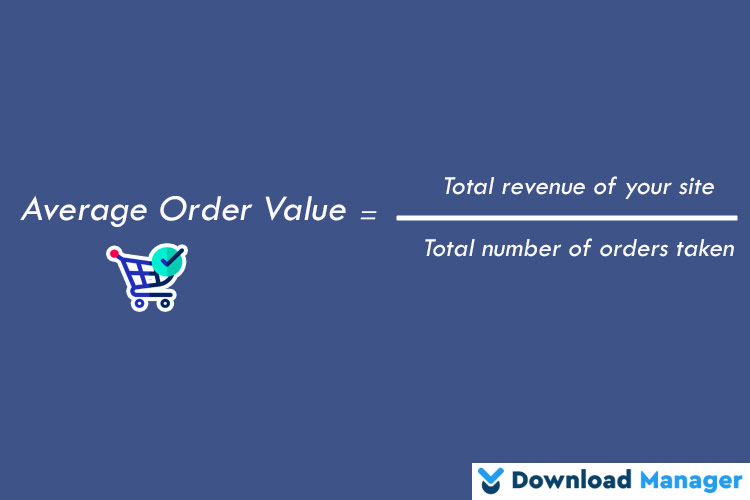 For example, suppose you were tracking the revenue for a particular month. This measured your total revenue of $56,000 from 850 orders that month. So, your monthly Average Order Value is $65.88.
Now, in order to increase your average order value, you can take some initiatives like,
Provide a discount for bulk orders,
Give free delivery over an amount or some selected products.
Offer to upsell and cross-sell features on your products
Impart discounts on the next purchase.
4. Customer Lifetime Value
Customer Lifetime Value (CLV) is the amount of revenue from a customer over his whole lifespan for your company. That means the total earnings from the repeat transactions and retention activities.
This metric is very essential for an e-commerce company as it gives information on how much you could spend to acquire new customers and retain them to make your business profitable. In addition, if you want to measure your customer lifetime value you can see the infographics to calculate.
For example, if a customer purchases $5600 over 8 orders throughout his life, then your average CLV would be $ 44,800.
5. Cart Abandonment Rate
Sometimes some customers add products to cart but leave the site without completing the checkout. It means they are willing to add multiple items to their cart but abandon the purchase. The cart abandonment rate gives the percentage of that customer.
This metric is very important for an eCommerce store because almost all companies face this situation.  This rate assists an eCommerce store in detecting what is the problem with their site and why they do not purchase after selecting products. Some reasons could be a long checkout process or a not secure payment method.
Moreover, you can check your cart abandonment rate manually by dividing the number of completed orders by the number of shopping carts that your customers created. 
Besides, you can track the metric in your Google Analytics report by going to Conversions → Ecommerce → Shopping Behavior.
Now, You can decrease your cart abandonment rate by doing some steps like,
Make the checkout process as simple as you can such as within one page complete your checkout process.
Secure the payment method by adding a ReCaptcha or password.
Ensure the product delivery will be done as early as possible.
Take a remarketing policy to bring that customer again to your site to complete the purchase. 
6. Checkout Abandonment Rate
Checkout Abandonment Rate is another essential metric that measures your site's behavior. All Abandonment rate is bad for an e-commerce company. The major difference between Shopping Cart abandonment and Checkout Abandonment cart is in checkout abandonment, customers already started the checkout process but did not complete their purchase. It is actually a step above shopping cart abandonment.
As a customer has started the checkout process it means he/she wants to buy your service. There are several reasons that can happen to leave your sites such as poor cart management or poor site design etc.
7. Customer Acquisition Cost or Cost per Acquisition
Customer acquisition cost (CAC) is a metric that defines how much you spend money to get a new customer on your site. This metric will contain all promotional expenses, marketing promotions, and discounts given to sell the product to the customers.
It can be calculated by dividing all the marketing costs for a particular period of time by the number of new customers acquired during that period.
Formula For Customer Acquisition Cost
Customer Acquisition Cost = Total Marketing Cost for a given time / Number of Customers Acquired during that time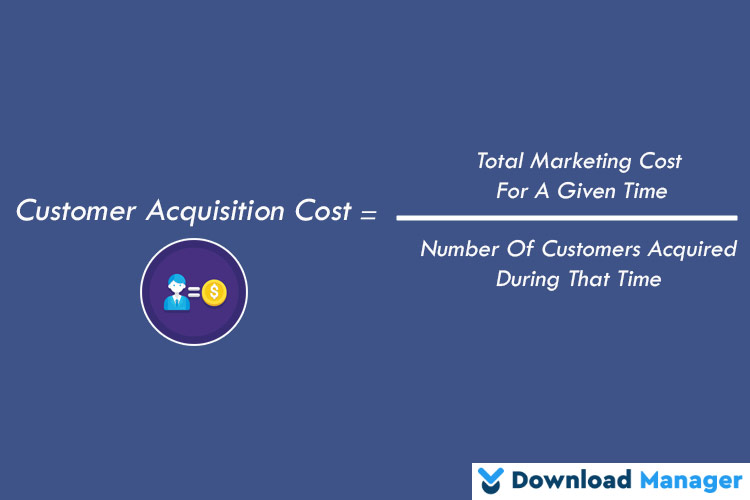 So, to gain profit, the customer acquisition cost must be lower than the Customer Lifetime Value (CLV)
Now, in order to reduce the Customer Acquisition Cost, You must focus on improving the sales conversion rate, enhancing the user experience, investing in free marketing social platforms etc.
8. Customer Retention Rate
Customer Retention Rate is another essential metric that can track your e-commerce store performance. It is defined as the percentage of customers you keep active on your site.
Most eCommerce companies spend a huge amount of money on customer acquisition costs rather than the customer retention rate. As a result, sometimes it brings bad conditions to your site. So taking effective methods and strategies to sell products to old customers is more important in growing revenue than acquiring new ones.
To track the rate, you have to use the following formula,
Customer Retention rate = [(Number of customers at end of period) – (New customers acquired during that period)] / (Number of customers at the beginning of period).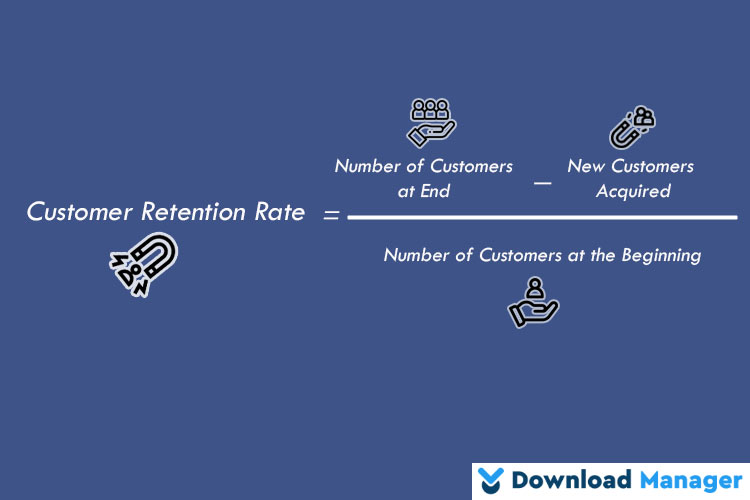 9. Email Click-Through Rate
As we know, Email list is one of the most critical online tools for eCommerce businesses. So the Email click-through rate metric helps to enhance your business growth. This metric mainly defines the number of subscribers who clicked through to your site from your email.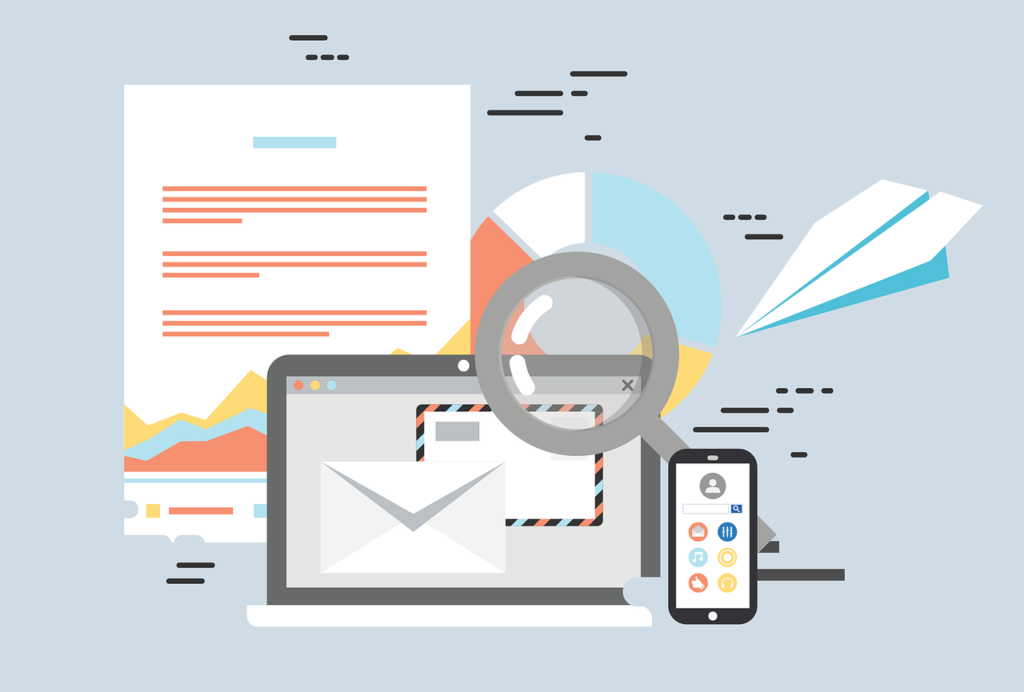 Moreover, each email will include a call to action (CTA) and a link to track the response.
Furthermore, you can track the metric by dividing the total number of email clicks of your customers by the number of emails you sent to them.
Net Promoter Score is a metric that measures customer loyalty and satisfaction. It is mainly used as a predictor of business prosperity.
It is actually a survey of the customer satisfaction score that labels from 0 to 10. Answering from the customer, customers are divided into three categories as detractors, Passives and Promoters.
Detractors – These types of customers give 0 to 6 scores to your company. It means they are not attracted to your service or product and they will not purchase from your company again.
Passives – Customers who give a score of 7 or 8. It means they are satisfied with your products and have a chance to purchase from your company again.
Promoters – These customers give 9 or 10 to your company. they are fully satisfied with your products and will repeatedly purchase products from your business.
You can track the score by giving an email to all of your customers to participate in the survey and give a score to your business.
Conclusion
That's all. All these eCommerce metrics are the secret to keeping an eye on your eCommerce business performance, activities or improvement. No matter what type of business you have like big or small, you must have to pay close attention to these metrics.
Hopefully, this article will help you to realize the importance of tracking your e-commerce business performance using some essential metrics. You may also ask any questions related to it in the comment or want us to write on some specific topics you have in your mind. To add more, you can check our complete e-commerce solution to track, control or manage your files easily.
If this article will help you, then please subscribe to our YouTube channel to get more tutorials related to WordPress. You may join our Facebook page to update yourself with more tips, solutions, offers, and so on.
We appreciate your further comments, support or suggestions!