5 Best Platforms For Selling Digital Products Online
If you are going to open an online store to sell ebooks, digital arts, subscriptions, or online courses, eCommerce platforms have a big role to play in that. But there are so many platforms to choose from, which eCommerce platform will be the best for you to selling digital products?
But don't worry – we're here to help! In this post, we're going to discuss the best eCommerce platforms for selling digital products.
1. WordPress Download Manager:

According to us, WordPress Download Manager is the best one among thousands of platforms for selling digital products. Want to know why? Let me explain you in detail.
As the name implies, WordPress Download Manager is a simple, intuitive plugin for managing and selling digital products on WordPress. Whether you're selling ebooks, plugins, images, memberships and subscriptions, songs, graphics, videos, or any other media file type, this platform has everything you need to get started. With this plugin, no coding language is required to set it up. Just install it to your WordPress site and you'll have a digital sales platform, with features for discount codes, file access control, and activity tracking. For adding products, add a new package, add a file, set the price, and publish. To add the packages on any page/post, you need to use the shortcode and embed the downloadables to that page/post. You can also download and install the Gutenberg Blocks add-on to get the Download Manager block.
The best part of WPDM is, it provides you with detailed reporting on how your products are performing, which is essential for growing your business and making data-driven decisions. There are download logs with details of each download's date and time, IP address, and payment record. Another key feature that makes WPDM worth considering is bundle downloads. It let your buyers purchase multiple digital products into a single download. And you can specify information such as the file version, package size, and link label there. Also, there is a huge range of template options available to customize the product appearance.
WordPress Download Manager offers several different download methods and types of protection for your files. In the free plan, they let you configure the access permissions with three lock options – password lock, terms agreement, and CAPTCHA. You can specify user roles that can have access to your files. You can even set the file download limit on each user and expiration link after a certain period of time. Moreover, there is an option (specially for pdf files) that user can only open the file in their browser which prevent customers from sharing their files with others.
This is not the end, they have a vast collection of add-ons that makes it easy for you to add new features to your eCommerce site. Those add-ons include email marketing tools like MailChimp, ActiveCampaign, Campaign Monitor, OptinMagic etc. There are also a number of payment gateways such as: Stripe, PayFast, Paystack etc. Some of the add-ons are free, but others are anywhere from $49 to $100. WordPress Download Manager gives you 24/7 support through live chat, phone, email, and FaceBook. There's also lots of documentation, plus video tutorials and support forums.
Pricing:
One of the reasons for WordPress Download Manager's success is, you can use it to get started without investing any money upfront. This WordPress eCommerce plugin comes in free and premium versions. The Pro version includes email lock, social lock, download statistics, front-end file manager and much more, priced at $59 for a single site license.
2. Shopify: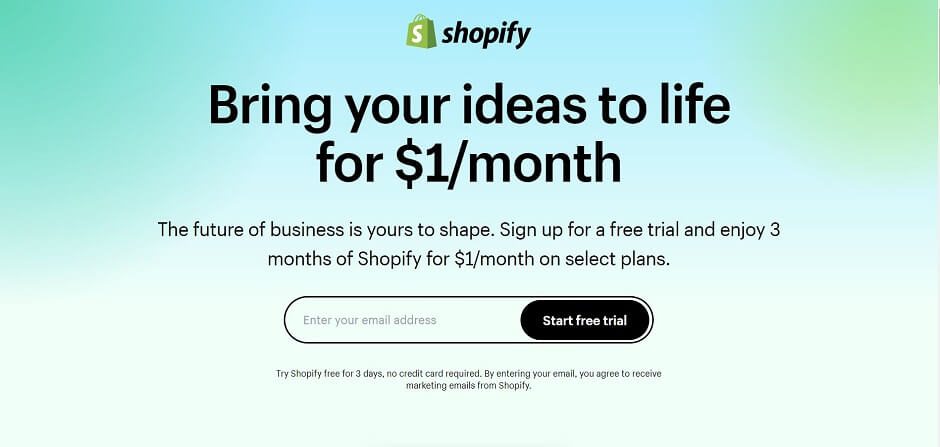 Shopify is always on the few names when it comes to the best platforms for selling digital products. It enables even the most non-technical user to turn their site into an online store with the Shopify Buy Button. It offers extensive easy-to-use tools and features to start, grow, and manage an online business. With Shopify, you don't need to buy hosting or even a domain name. Just sign up for an account with Shopify and start creating your store.
One of the reasons behind its popularity is its ease of use and customization flexibility. It provides you with a wide range of themes that can be customized to design the store as you desire and to meet your branding requirements. Moreover, every plan they offer come with unlimited storage, unlimited bandwidth, and lets you post unlimited products so that your site scales beautifully as your business grows. Not only that, Shopify also provides built-in tools to help you optimize your site for search. It even enables you to modify the robots.txt file to direct search engine crawlers to specific URLs for higher rankings.
Using Shopify, your user can download your digital products immediately. Even there is an option to send a link to download in their email automatically once they provide their email address. This platform has an incredible library of apps and third-party extensions to help you elevate your store to the next level. It also supports over 100 payment options and offers 24/7 support if you ever find yourself in a sticky situation.
Pricing:
Pricing: You can test Shopify for 14 days with the free trial, then upgrade to Basic Shopify for $29 per month. For more advanced features, there's a $79 and $299 package too.
3. WooCommerce: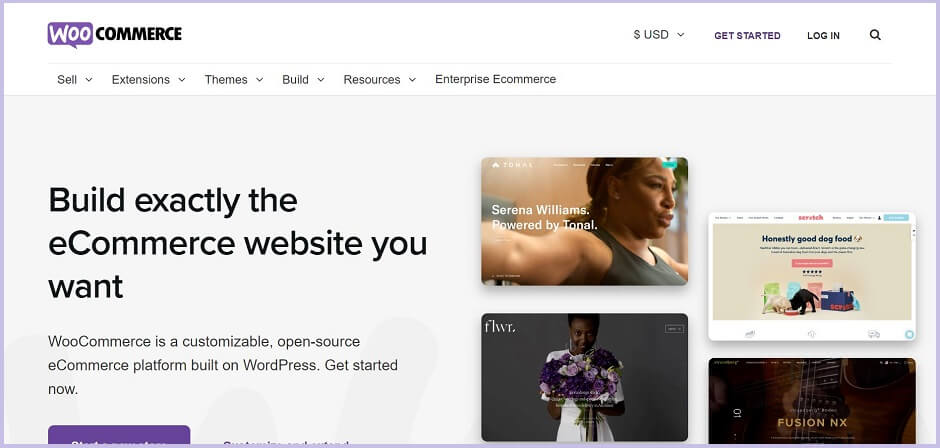 WooCommerce is one of the world's favorite eCommerce solutions, so you might have already heard of it. It is a SaaS platform where users don't have to concern themselves with a lot of technical details in order to build a functional and aesthetically eCommerce store. Whether you're selling digital goods or physical goods, WooCommerce made it easy for anyone to create an eCommerce store in just a few minutes.
With Woocommerce, you're able to upload all of your digital files and organize them for selling online. To add a digital product, you just need to choose the "Downloadable" option upon configuration and the file uploader, download limit, and expiry options will automatically appear. This tool serves as both a file manager and an eCommerce platform. It also gives you options to provide instant downloads to customers and send out emails with download links. You can set user restrictions for all of your downloads, either cutting back on the number of downloads per item or blocking some users completely. Not only that, it comes with built-in analytic tools to track purchases. Moreover, many add-ons are available for adding features like discount coupons, preventing spam, and members-only downloadable content. Bookings, memberships, subscriptions, and dynamic pricing rules are only an extension away.
There are two payment gateways that are included for free and various payment gateways it integrates with, which include PayPal, Stripe, Authorize.net, and others. WooCommerce also integrates with dozens of solutions, including Facebook, Sage, Zapier, MailChimp, ShipStation, Square, Fulfilment by Amazon, and more. And because of its popularity, there are hundreds of themes available for WooCommerce, which makes it easy for you to choose your site's design and layout. WooCommerce also gives you an extensive online support community with excellent documentation, a knowledge base, help desk available online. Lastly, you can always leverage WordPress' SEO advantage to bring people to your eCommerce store.
Pricing:
WooCommerce is a free plugin. However, there are many paid add-ons available for extending the free features.
4. Gumroad: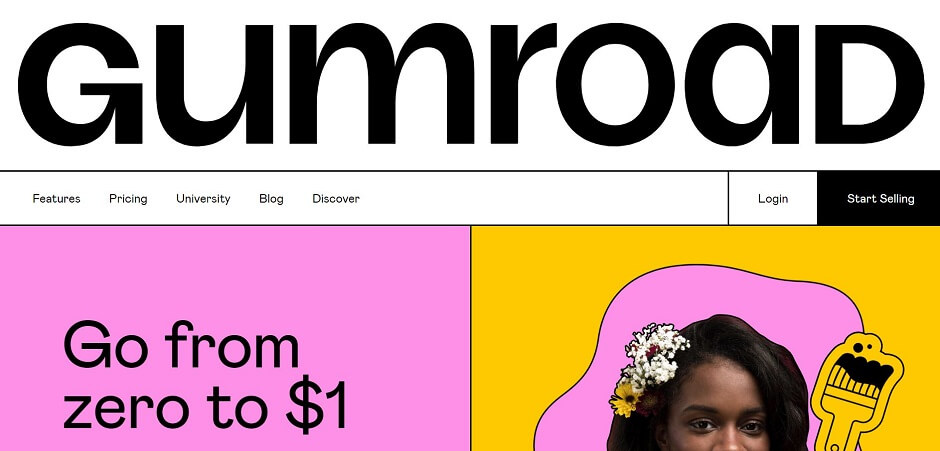 Now, we are talking about a self-publishing online digital marketplace, that is Gumroad. This is a popular digital selling platform where you can upload your albums, books, games, films, online courses and more to the Gumroad servers; set a price and let everything unfold naturally. That means you don't need any website to sell your products. You can just create a page on the Gumroad site and sell. The setup is pretty simple to use, and it's highly secure. You can also integrate Gumroad into your own website utilizing the embeddable Gumroad widget.
Gumroad allows you to sell multiple versions of a product, and generate unique license keys for software for each buyer. You can also give your most loyal customers discount codes, vouchers and other benefits. The solution comes with access to a range of tools including Printful, Zapier, ConvertKit, Book launch, and IFTTT. It is also integrated with Google Analytics so that you can get access to powerful data and universal analytics. Moreover, it allows you to accept a variety of different currencies from a global audience. And while it has Paypal integration, it also allows you to receive credit card payments, with an option to receive the money directly through a bank deposit.
Pricing:
You don't need to pay for the service until you sell something, commissions apply based on the number of customers. You can start with 9% transaction fees + an additional $0.3 for every transaction. As your sales grow your commission will decline to 2.9% + $0.3 for every transaction.
5. Sellfy: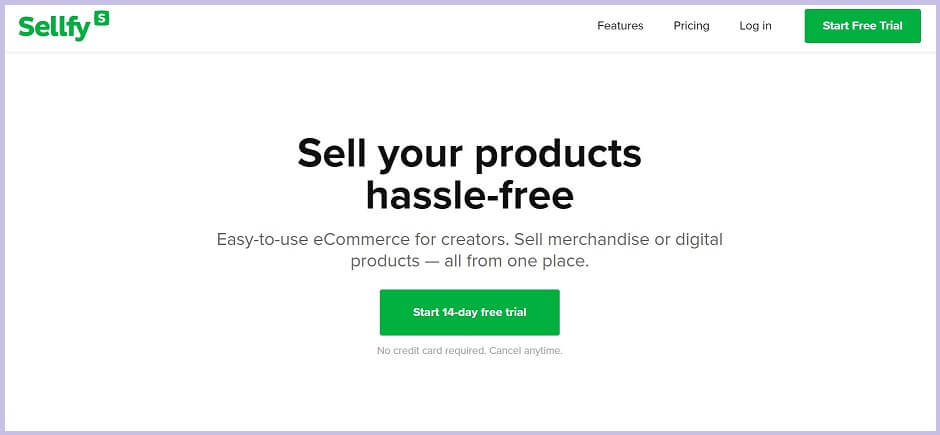 Sellfy is an affordable, popular, and easy-to-use solution to create online stores, handle digital goods, process payments, facilitate product deliveries, and market items. While it doesn't have many of the advanced features like other tools mentioned here, it's a great option if you want to sell digital products without having to worry about the technical side of things.
This tool is mostly best for beginners or for anyone who wants to build and grow them as quickly as possible. With Sellfy, you can build a digital store in less than five minutes. You can upload and sell videos & films, digital art, tutorials, photography, online memberships, e-books & PDFs, online events & promotions, and more. Just create your own store with Sellfy if you want to build a professional brand or sell from your existing websites using an embedded "Buy now" button.
The best thing about Sellfy is its landing pages are all customizable where you can insert your logo, play with color schemes, and organize the layout. Not only that, but this tool also comes with a range of languages you can choose from and multiple payment modes. Moreover, you'll have full access to unlimited bandwidth, and support for your own domain with Sellfy.
This tool makes it easy to expand your earning potential with access to a range of built-in marketing tools, like email marketing, discount and coupon codes, and upselling opportunities. It also comes with various tools to promote your products on social media and improve your sales. In addition, the site has built-in SEO and you have the option of choosing a custom domain.
With Sellfy, you are also allowed to sell physical products, subscription-based products, and print-on-demand products. You can also charge your customers on a weekly, monthly, or yearly basis for your digital subscription products
Pricing:
There's a free package for Sellfy if you want to sell up to 10 products. You can also choose from different paid packages. Paid packages are starts at $29/month and $264/year based on the number of marketing features, and email credits.
Wrapping Up:
And here are our 5 best platforms for selling digital products online. Did you use any of them, what was your experience let us know. Or if you have used any other great tool for your e-commerce site, share your experience in the comment section. We are always open to take your comments and suggestions.
If you like this article, please follow us on Facebook and subscribe to our YouTube channel for more updates. Also, check our Blog page for more free articles.