How To Use Pinterest To Market And Sell Your Products
Do you know how big the Pinterest market is? According to Google, Pinterest now has over 400+ million users globally and around 89% of its users get purchase inspiration using it. Another surprising fact is that 83% of weekly users make purchases based on the content they see from brands on Pinterest. So, whether you want to encourage your customer to another purchase or try to get new customers, Pinterest is a great platform to grab the opportunity. It helps to drive more traffic to your website, grow brand awareness, and increase sales by attracting potential customers to your products.
Are you wondering, how Pinterest Works? How you can use Pinterest to market and sell your products? No worries! In this guide, we'll discuss what Pinterest is, how it works, and how to create a Pinterest business account. Lastly, we will let you know some tips on how to use Pinterest to market and sell your products?
What is Pinterest & How does it Work?
Pinterest is a social media network, which is less of a social network than a visual shopping search engine. It is a platform where users go to get ideas that will help them improve the quality of their lives, their work, health, and even their wardrobe or hairstyle! So, it drives more sales than Facebook
On Pinterest, users pin their chosen content to thematic dashboards and other users can see those content by typing related keywords. You can also add your website link to your content so that potential customers can reach your site easily. Pinterest recently added a new feature called "Pinterest Lens". It will let you discover ideas inspired by anything you point your Pinterest camera at.
How to Create Pinterest Business Account?
The first step to selling your product on Pinterest is, creating a business account. With a business account, you get access to features like analytics, ads, and other necessary elements for selling on Pinterest.
If you already have a personal account, you can convert your Personal account to a Business one. In that case, skip this part and move on to the next section.
To start creating a business account, enter your email and age, create a password and click "Create Account". Make sure the email you're adding isn't connected to any other Pinterest account. You can also connect your Pinterest with your Facebook or Google Account.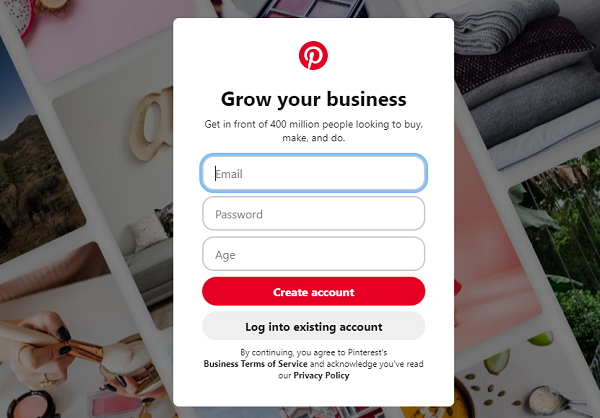 Now, you'll be asked about your business's name, website link, language, and location. Enter that information and click Next.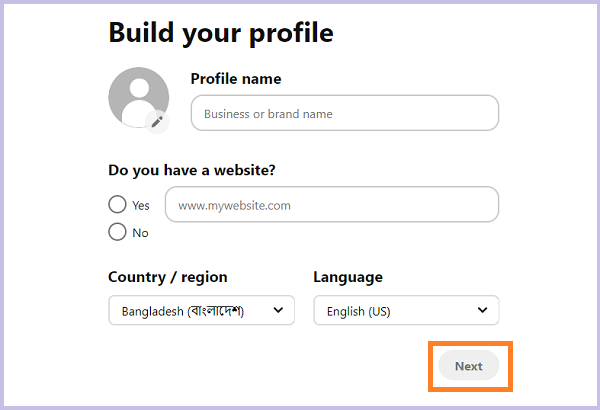 Next, you need to add your brand category and your goal.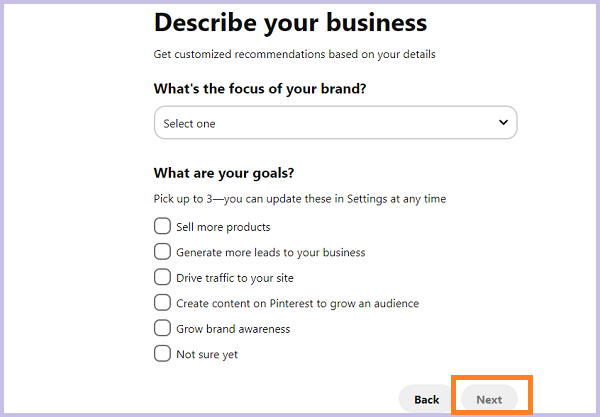 Click the drop-down menu and you will see a list of brands category, choose your one. If you can't find your category, select others and add your brand category. Once you are done, choose three goals and click Next.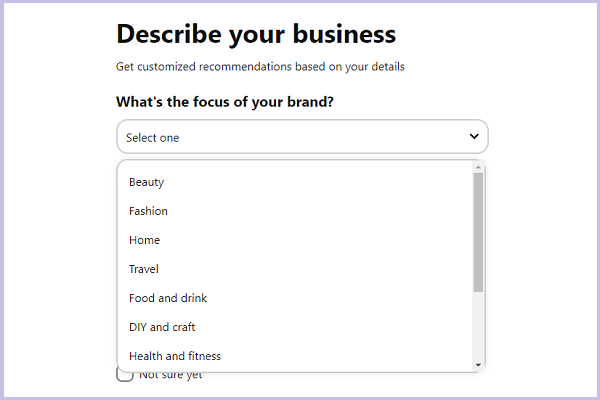 Again, there will be a list of what kind of business you run. Select "Online Retail or Marketplace" then click Next.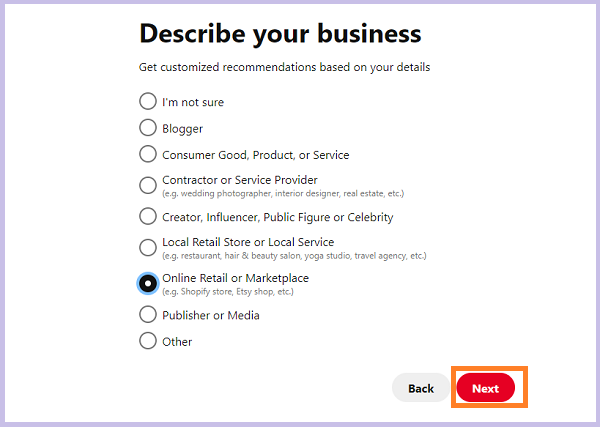 Pinterest has several e-commerce platform partners such as: Etsy, Shopify, WooCommerce, Wix, Prestashop, and Squarespace to make your selling easier. Select, if you use any of them. Otherwise, click something else.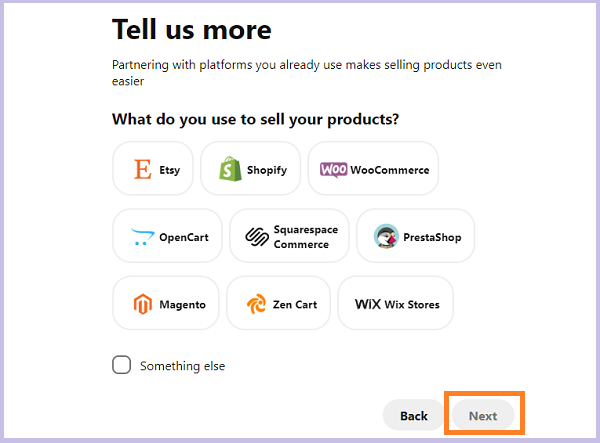 Lastly, you will be asked if you are interested in running Pinterest ads. Select if you want to run ads and go to the next.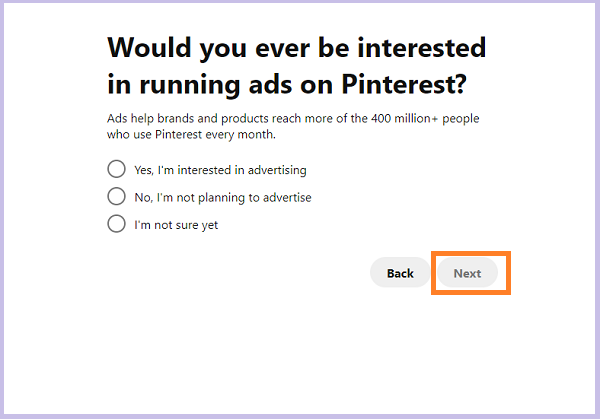 Finally, your Pinterest business account has been created. Now you're ready to start Pinning.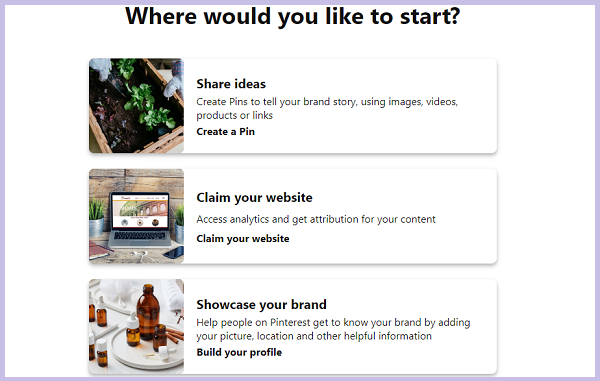 To optimize your business account add your company logo, current contact details, attractive bio, and claim your website.
Convert Personal Account to Business account:
Switching from a personal to a business account is very easy. Just login to your profile, click on the arrow icon on the top right side, and click on the "Settings".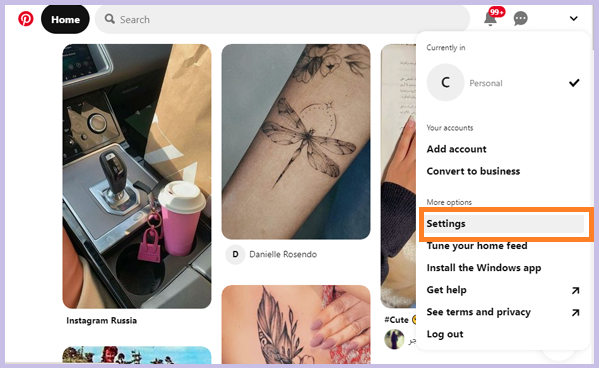 This will redirect you to your profile setting page. Where you need to click on the "Account Settings" on the left-hand menu.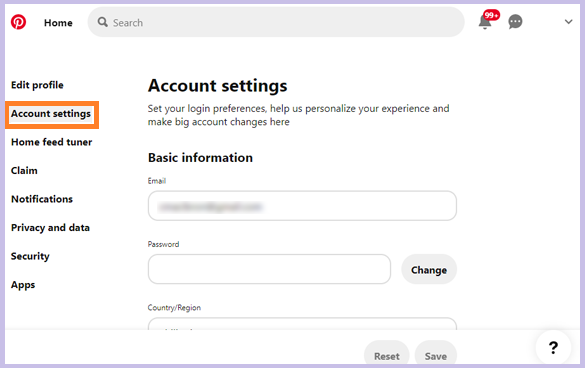 Now, scroll down and click the "Convert account" button under the "Convert to a business account" section.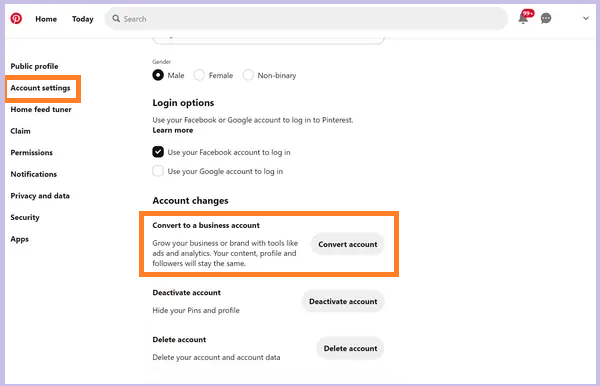 Next, follow the same steps as above: add your business's name, language, location, business description, and a link to your website. And you are done!
How to Use Pinterest to Market and Sell your Products?
Now that, we have got to know how to create a business account, it's time to learn the tricks to market and sell on Pinterest. Here are six ways to use Pinterest to market and sell your products and grow your business.
1. Enable Rich Pins:
Pinterest is continuously adding better functionality for its business users, Rich Pins are one of them. Reach Pin is a feature that allows you to include a lot more details about your pins and update that information automatically. Basically, Rich Pins automatically synchronize information from website pages that they linked to. Having pulled information from your website automatically, saves a lot of your time and hassle. There are three Free Rich Pins formats available now: Product Pins, Recipe Pins, and Article Pins.
As Product Pins is a great way to convert your visitors into buyers, it is the most widely used Pins by e-commerce owners. Product Pins show your customers where the product they pinned can be purchased, its price, description, and the direct link to the product page. Even if you update the post title, price or meta description, it will update in real-time and the users who pinned the product will be notified about the update. Rich Pins also allows your users to know if your product is in stock or not.
2. Use Promoted Pins:
Promoted Pins are regular pins that companies have paid to promote. Basically, it is Pinterest advertising. Business owners use Promoted Pins to make their pins more visible to pinners. Promoted Pins can help you to generate more sales as they simply take the user directly to your website. So, if you are looking for faster leads with an affordable range, try working on the promoted pins. Generally, Promoted Pins can be shown in users' home feed, category feed, and search results with a small "Promoted" tag on the bottom. But you can also choose if you want them to appear in searches or feeds, or both.
To make the most out of Promoted Pins always choose the right keywords so that your content pops up in the right searches organically. Pinterest allows you to target certain locations, demographics, and devices and schedule start and end dates for each campaign. You can also monitor and adjust your campaign as it runs. More importantly, you need to pay Pinterest only when someone clicks through the pin to your website. But there have some rules also, your Promoted Pins must need to be accurate and lead to a relevant landing page with no signup requests.
3. Organize Your Boards:
A board on Pinterest is a place where users save pins. That means a board is a collection of pins. Whenever you create a new pin, you have to add it to a new Board or an already existing Board.
Almost every online business works with different types of products. If so do you, cover every category that your business is working with. When you create different boards for each of your product categories, people easily get the product they are looking for. Not only that, they can easily search, find, browse through your products and follow either your entire Pinterest account or the specific board as per their interest. You can also create sections within each Board to organize your pins more specifically.
Make sure your boards should be relevant to the topics you post about. Try to design cover photos for each category that indicate what the Board is about and upload them as the first Pin. Also, add keywords in your board titles so that even more people can find your business. Ranking and ordering your boards are also important. With passing time you'll be able to see which boards are getting more engagement. Rank those boards to the top of your page so that users see your best products first when they come to your page.
Lastly, participate and create group boards. Group boards are collaborative boards owned by a single person who can add others to contribute to them. It's an easy way to get your pins in front of a lot of people because board owners and collaborator followers can see those pins. Also, it's helpful for collaborating and getting feedback.
4. Become a Verified Merchant:
Pinterest merchant verification is a focused effort to establish merchants and brands as well as the products they sell. It's free to join but a great way to grow your business. Joining this program could be huge for increasing your reach on Pinterest and ultimately result in way better conversions. To join this program you'll need:
To Meet the Pinterest Merchant Guidelines
An active catalog
Functioning tag
Once you are verified, a blue check mark will be added to your profile. Verified merchants also get a "Shop" tab on their profile. But first, you need to add your catalog to Pinterest. So if someone visits your profile, they will see all of your shoppable products and info are in one easy-to-find place. Though the product link will still lead them to your website, all the info will be there for them. Moreover, when you become a verified merchant, you'll get early access to Pinterest's Conversion Insights tool. Which will help you to measure the total sales impact of paid and organic Pins.
People always like to shop from a trusted business. They feel more confident buying from shops that are vetted and approved by Pinterest. It also helps your pins to appear organically to people who are searching for products, so there isn't really a good reason not to join.
5. Optimize Your Pins for SEO:
As we have mentioned earlier, Pinterest works like a visual search engine so treat it like that. Use some SEO strategy to get your pins discovered by the eyes of your target audience. Research what users type on the search bar when they want to get content on any trendy topic. Simply use the Pinterest search bar and search terms related to your niche and see what keywords come up. Also, make sure to do proper research on what type of content your competitors are using on Pinterest.
Once you get your niche-related keywords, use them in your Pin/Board titles, descriptions, and pin image file names. Also, try to use them strategically and naturally so that you organically appear in users' feeds and searches.
6. Track and Analyze Pin Performance:
After you have completed all the basic steps mentioned above, the only thing left to do is to track and analyze your pins' performance using Pinterest Analytics. Pinterest Analytics is a free set of tools for Pinterest Business account users so that they can monitor key metrics and improve their content strategy. Pinterest Analytics helps you analyze the data for different parameters such as Impressions, Top Pins, Top Boards, Engagement, and Number of Clicks. You can filter those metrics by content type, device, source, format, and even on a daily, weekly, and monthly basis.
It also gives your insight into how well your pins are doing, which pins drive the most traffic, which one of your boards is performing best, and what content is working for your account. And by understanding all of these, you will be able to make intelligent marketing decisions and improve your conversion rate. So, track your analytics regularly so that you can tweak your content strategy that supports your business goals the most.
Using Pinterest to sell and market your products is a damn easy process if you know the correct marketing strategy. Just focus on creating relevant and helpful content, optimize your Pins for the right keywords and make a proper marketing strategy.
There could be thousands of marketing strategies that may work, but we have mentioned the steps every business owner should follow primarily. Hope this article helped you to get a better idea of how to use Pinterest to market and sell your products. If you have any queries or any other marketing tips, let us know in the comment section.
Check our Blog page for more marketing-related articles. Also, follow our FaceBook page and subscribe to our Youtube channel.