How To Troubleshoot WordPress Conflict Using "Health Check" Plugin?
As themes and plugins provide additional features and functionality, we often use a ton of plugins and themes to improve functionality on our site. It means more code is active on our site which increases conflict with each other.
Sound familiar, right?
Well, In such a case, We highly recommend you use the Health Check plugin which allows you to run a conflict check without affecting your visitors to your site.
In this post, we will explain how can you troubleshoot the conflict with the "Health Check" plugin. But before getting to know the fixing, let's define what is WordPress Plugin conflict. So, Let's get started!
WordPress Conflict
Conflict in WordPress is one of the most common errors which occurred when a plugin's code does not act well with your website.  It also happens because of inconsistency between the latest and older versions of WordPress, plugins, or themes.
Usually, these conflicts can happen as a result of-
conflicts between two plugin
conflicts between a plugin and a theme
conflicts between a plugin and the WordPress core
So, whenever you need to activate a new plugin or theme on your site, to avoid serious errors, it is necessary to proceed with caution.
But still, there is always a level of possibility to miss something, which could cause an error. So, you should know how to troubleshoot and resolve the issue immediately.
How to Troubleshoot and Fix Conflict Using the "Health Check" plugin?
The health Check plugin allows you to test the conflict in a fast way. You can detect common configuration errors and known issues of WordPress without affecting your normal visitors to visit your site. 
To use it, first, install the plugin like any other WordPress plugin. This plugin is free and available on WordPress.org. To install it, simply go to Plugin → Add new from your admin dashboard and search "Health Check" plugin in the search bar.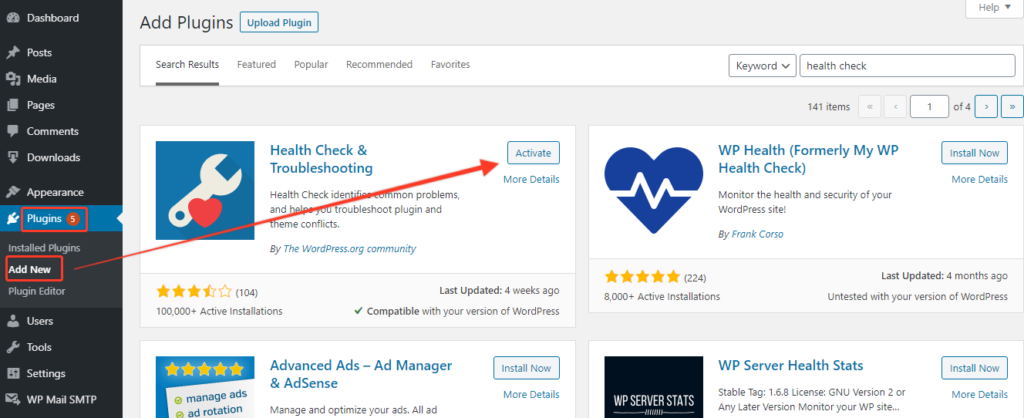 Here, install the plugin and activate it before using it.
Health Check plugin offers:
Now, to allow all the features on your site, at first go to the menu on your dashboard. Simply click on the Tools → site health.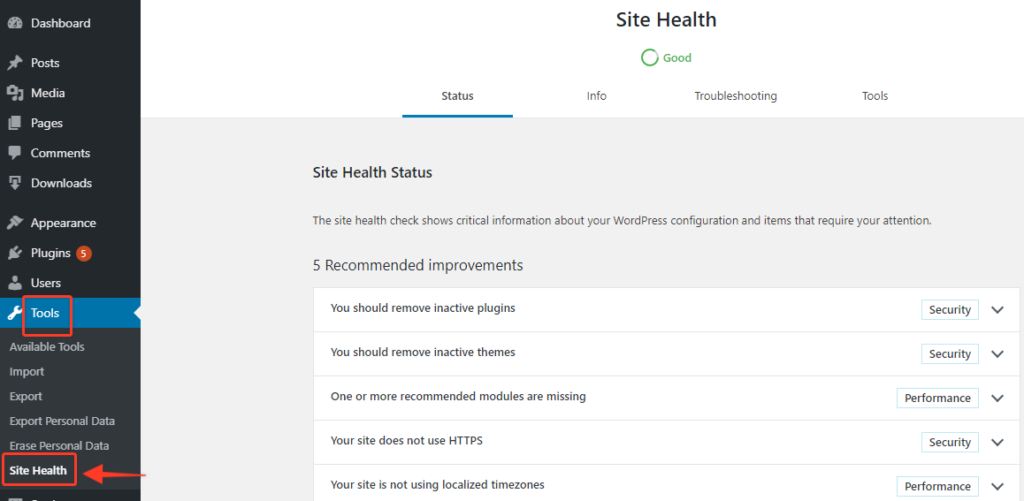 Troubleshooting Mode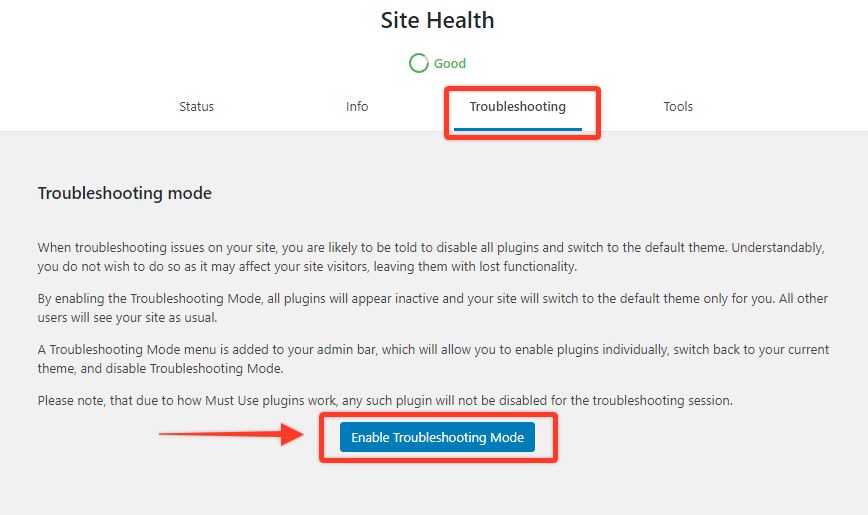 To troubleshoot the conflicts, click on the Troubleshooting tab. Next, read all the instructions they have given and enable Troubleshooting mode. When you enable the mode, your all-installed plugin will disable and your site switches to the default theme. But it does not impact the front end of your site, it only happens to you. So this mode does not impact your users.
Here, You can allow individual plugins or themes which help you to figure out the actual cause of this odd behavior on your site. One important note is whenever you disable troubleshooting mode, any adjustments you make to the settings will be retained.
Moreover, you can also change plugins and themes in Troubleshooting Mode or disable the mode via the Admin bar.

You can reactive each plugin again to check when the conflicts return. Once you got the problem, report your developer or support team for further support.
Now disable the troubleshooting Mode at any time, selecting Disable Troubleshooting Mode on your site's Dashboard or via the Admin bar.
Besides the troubleshooting mode, this plugin also offers to check your all core files, your mail address, and the compatibility of your plugins before upgrading PHP through the Tools Tab.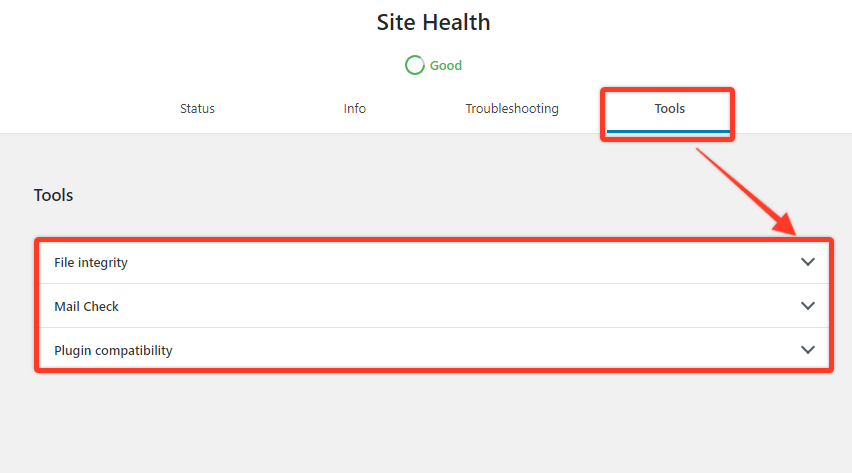 File Integrity:
With the file integrity option, you will monitor and compare all the WordPress files on the server with those provided by WordPress.org.
Mail Check:
Using this feature, you can check if your mail is successfully sent from your site or not. Moreover, you can use the mail address when you set up your site or change it if you need it.
Plugin Compatibility:
Here, you can try to identify your plugin compatibility before upgrading PHP. Although it may not always be sufficient to check compatibility, you may need to contact the plugin creator to ensure that things will continue to work.

Conclusion
Of course, WordPress conflicts can be removed by carefully choosing any troubleshooting plugins for your site. But for quick fixes and reducing conflicts on your live site, the Health Check plugin is the best standard in testing and troubleshooting.
We think you can now identify and resolve any type of WordPress conflict with the help of this tutorial. If you learn more about WordPress-related content, tips, and updates, you can check our WordPress How-to Guides.
If the article will help you, please subscribe to our YouTube channel to get more tutorials related to WordPress. You may join our Facebook page to update yourself with more tips, solutions, offers and so on.
We appreciate further comments, support or suggestions!