Use this feature to import multiple files at a time, from your web server, or you can import files from a CSV file. You can set Categories, set visitor access, change the title for each file, add a description for each file and also can set passwords for each file.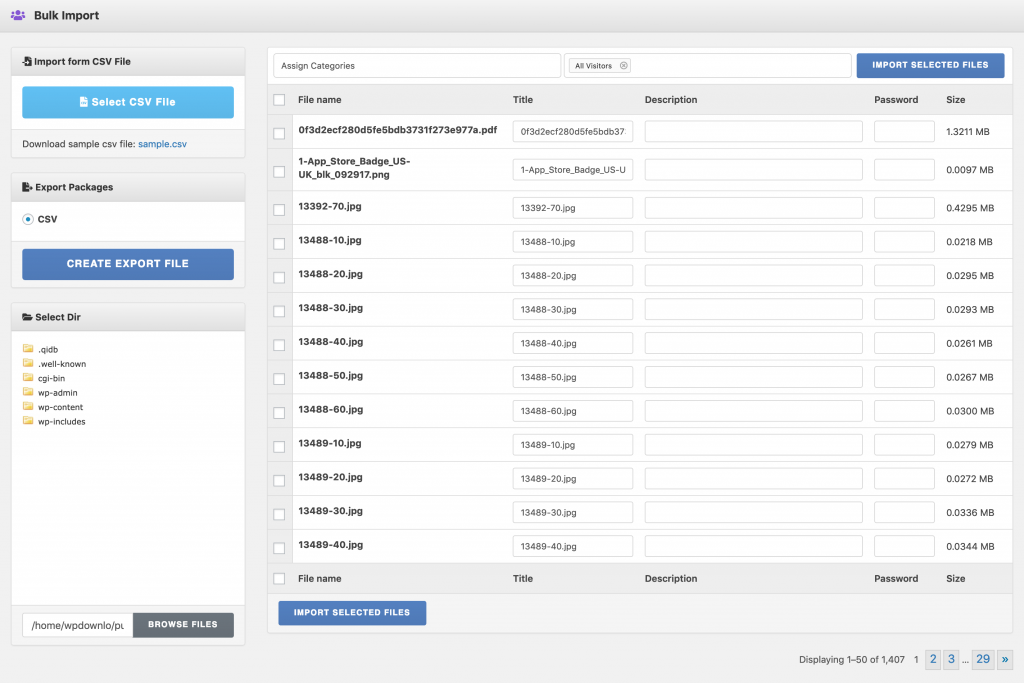 Details for each section is given below:
Import files from Server
Step 1: Select a directory from Dir Tree, where you uploaded your files using FTP.
Step 2: Click "Set as Import Dir" to load files associated with the selected directory. Files will be listed on the right side section.
Step 3: check the checkbox at the first column of each row you want to import. You can change the title of the file, add a description and set passwords for each file.
Step 4: You can assign categories to your files. Select categories from the category list. Note that, selected categories will be added to all files you selected to import.
Step 5: Select User role(s) to control user access to the imported files.
Step 6: Finally Click "Import Selected Files" button to import your files as packages.
Import from CSV File
Prepare the CSV file

Download attached sample CSV file
Follow the same format of sample data to add new data

Select CSV file by clicking "Browse.." button
Click "Import CSV" button
Column headings for CSV file:
title
descdription
category
preview
access
uid
files
file_titles
file_passwords
file_prices
download_count
view_count
version
link_label
quota
download_limit_per_user
package_size
individual_file_download
template
page_template
password_lock
password
password_usage_limit
email_lock
email_lock_idl
tweet_lock
facebook_lock
googleplus_lock
files
fileinfo
package_dir
create_date
update_date
publish_date
expire_date
icon
base_price
sales_price
variation
Last updated on Apr 1, 2019