15 Powerful WordPress Website Maintenance Checklist Essentials
Maintaining WordPress is a crucial element of website management. About any of the hardware has some form of updating program that keeps them secure from unwanted vulnerable activities. Though WordPress is a stable platform, you will expose yourself and your website to the danger of security bugs and hackers if you don't manage your website regularly. That is to say, this WordPress maintenance checklist will ensure your WordPress site to keep safe and perform with its highest functioning.
Therefore, in this article, we will go through several sections of the WordPress maintenance checklist you should perform on a regular, weekly, yearly, and annual basis.
 But first, let's know the need to run the maintenance task regularly.
Why Do You Need To Run The Maintenance Task Regularly?
As we know, WordPress is one of the best platforms to customize your site as much as you need. You can use numerous plugins and themes to enhance your site functionality.
Due to the use of thousands of plugins and themes sometimes it can affect our site performance. So you need to run the site maintenance task on a regular basis to manage the WordPress maintenance and keep your website performance at its best.
Regular WordPress Maintenance Checklist
Generally speaking, as everyone's service is varied from one another, the maintenance checklist will be different. Hence, we create a list of maintenance activities that you will conduct on a regular, weekly, and monthly basis to maintain the site working. That covers items like: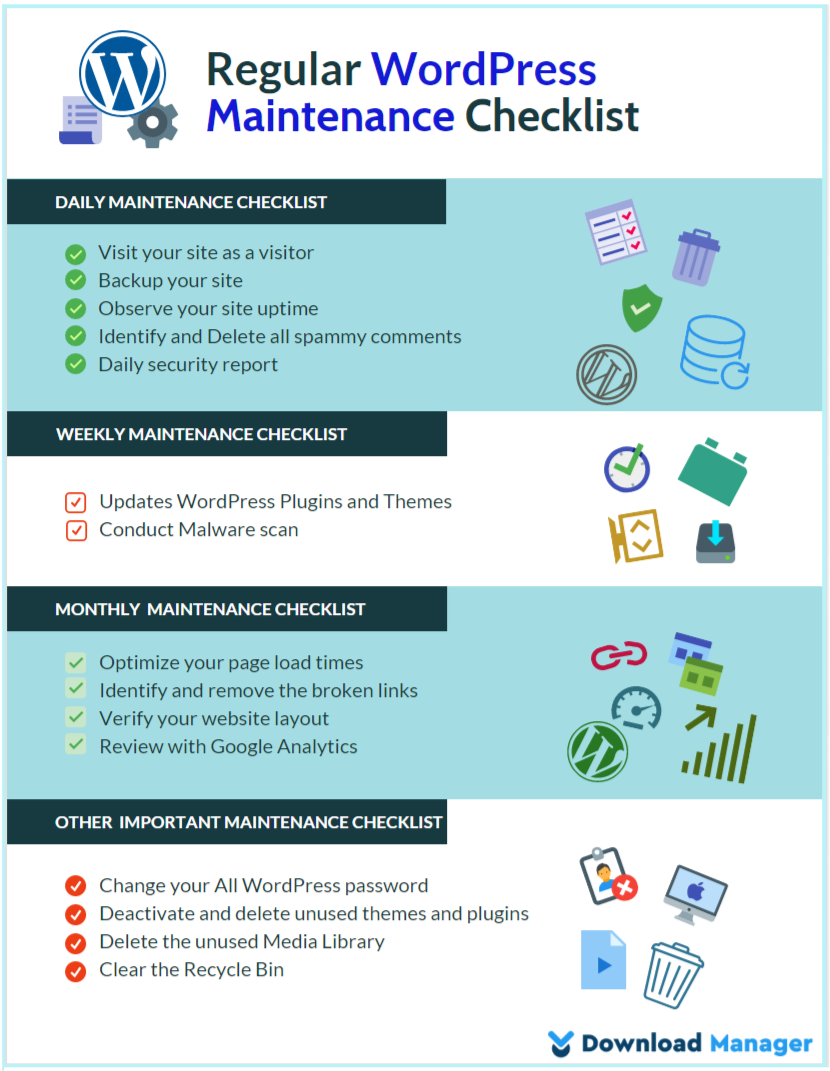 Daily Maintenance Checklist
1. Visit your site as a visitor
No matter what your website is, you need to visit your website as a visitor on a regular basis. These activities help to check your whole website at a glance and make it easy to find any flaws in design or features.
2. Backup your site
It's mandatory to have your website backed up. You need to daily backup your WordPress files and database because some silly mistakes can fully un-organize your site. Moreover, you don't need to do it manually on a regular basis. Further, there are lots of backup plugins (BackUpWordPress, Backup to Dropbox, or BackupBuddy) that help to automate the backup process. After running the backup plugin on your site, you just need to check whether the backup files are properly stored at the defined location.
3. Observe your site uptime
The uptime of your site is the most crucial thing that ensures that your site is working well. So, you must monitor your site uptime on your maintenance checklist on a daily basis. For this purpose, you can also use some monitoring services such as Super Monitoring that notify you through SMS every time about your site's downtime.
It is an important task to take care of your site's comments. if you are running a blogging website, it means you will get lots of comments, then you need to identify and delete the spam comments daily. Otherwise, you can filter out the spammy comments on a monthly basis. you can read out the short article about how to disable comments to delete spam comments.
5. Daily security report.
Because of using thousands of plugins and themes, it has a high chance to get affected by hackers. So it is essential to monitor your website security on a daily basis. For observing your site security we recommend you use Sucuri which is a security company that helps to protect your website against various threats. Its key function is to send you a regular status update via email, and send an SMS when something is suspect.
Weekly Maintenance Checklist
6. Updates WordPress Plugins and Themes
To get more function from your core plugin and theme, you must use the latest version of WordPress as well as your installed plugin and themes on a weekly basis. For getting the latest version, you should update and upgrade everything on your site. If you don't use the latest version of WordPress it has more possibility to harm your site by unauthorized access.
To update your whole website, you have to go to your WordPress update page from the admin dashboard and manually check whether any plugins or themes are updated with their latest version.
7. Conduct A Malware scan
Another essential maintenance checklist should run a malware scan to examine the corrupted files and security threats of your site. There are lots of malware scanners you will get like Sucuri Security, Bulletproof Security, or Wordfence to analyze your site for suspected malware and take action to ensure your site is safe from potential attacks.
Monthly Maintenance Checklist
8. Optimize your page load times
You should observe the loading time of your web pages by using tools like Pingdom and Load Impact. Also, you must analyze the speed as it is directly connected to your traffic and sales. If your site speed is too high then your user can not stay longer on your site which can lose your traffic.
9. Identify and remove the broken links
Broken links on your site cause a bad user experience and give a negative impact on your user about your service. So, you should find those links on your site. For example, it could be broken image links, poorly formatted links, or misspelling your own links. 
You can use the Screaming Frog SEO Spider to check and fix the broken links. Its function is to quickly identify the URL status codes and remove them automatically.
10. Verify your website layout
On a regular basis, you should check out your site's layout on different search engines like Chrome, Safari, Internet Explorer, and Firefox. You can keep it in your checklist and check it every month for inspecting whether your site is SEO friendly or not.
11. Review with Google Analytics
The next thing you need to do is to check whether your website is working well or not with the help of the Google Analytics tool. This tool gives you a complete overview of your website like your web page views, traffic results, bounce rate, goals, conversions, etc.
It also suggests what you will do to increase your site's productivity. To use this tool, you just simply log in with it and analyze the data of your site. Further, you put this on your checklist on a monthly or weekly basis depending on your needs.
Other Important WordPress Maintenance Checklist
12. Change your All WordPress password
Your WordPress Password is an asset to your site. It is the key that prevents unauthorized access to your site. Therefore we suggest you use a strong password in order to keep your site safe. Having a strong password for a long time may be hacked by hackers. So we recommend you change the password of your admin dashboard, FTP or SSH account, and database account frequently.
13. Deactivate and delete unused themes and plugins
Having outdated or unused themes or plugins can be another reason for the security hack of your site. Not only this but also it can affect your site speed. So, we suggest you find out the unused and outdated themes and plugins and remove them all from your site.
Similar to unused themes and plugins, unused media libraries also slow down your site speed. The main reason is the huge amount of redundant media files can take up large storage space on your site.
To search for the unnecessary files on your site, you have to go to your wp-content folder and browse your media library to identify the unnecessary media files of your site and permanently remove them. However, you can use a plugin named "Media Cleaner" to automatically delete the unused media files of your site.
15. Clear the Recycle Bin
Clear your Recycle Bin is another standard step of WordPress maintenance. You should clear the recycle bin of data on a daily ritual so that your site works quickly and correctly.
Wrapping Up
To sum up, if you manage a WordPress site you can't ignore its regular maintenance responsibility. Depending on the service of your site you need to maintain a checklist of regular WordPress maintenance to keep your WordPress site quick, secure, and up-to-date.
However, the maintenance checklist is not confined to the above items only. Meanwhile, you can add more functions to ensure the smooth operation of your site.
That's it, we hope this article helped you to understand the vital WordPress maintenance activities you need to run on your website regularly. To learn more about WordPress, you may check our WordPress Tips and How-Tos.
If this article will help you, please subscribe to our YouTube channel to get more tutorials related to WordPress. Also, you can join our Facebook page to update yourself with more tips, solutions, offers, and so on.
We appreciate further comments, support, or suggestions!