How To Change WordPress Site Language?
Establishing the language of a website is a very crucial part not only for visitors but also for site owners. While your admin page can be thoroughly understood and managed, visitors can easily navigate and get from your site what they need.
Luckily, through WordPress, you will be able to change your site language as it has a feature to translate site language into more than 65 other languages. So, it might be so easy to transform your site into your local or native language.
In this tutorial, we will explain how to change your WordPress site language.
So, let's begin!!
How To Change Your WordPress Site Language?
Your default WordPress language can be changed by taking various procedures. Here, I will pick the easiest method for you to do it.
Changing The Site Language To Any Pre-installed Languages
As you know, in WordPress, there are more than 65 languages preinstalled. You can use them and translate your website language into any language as you want.
Now, to change the site language to one of the pre-installed languages, at first head over to your WordPress dashboard and go to Settings → General.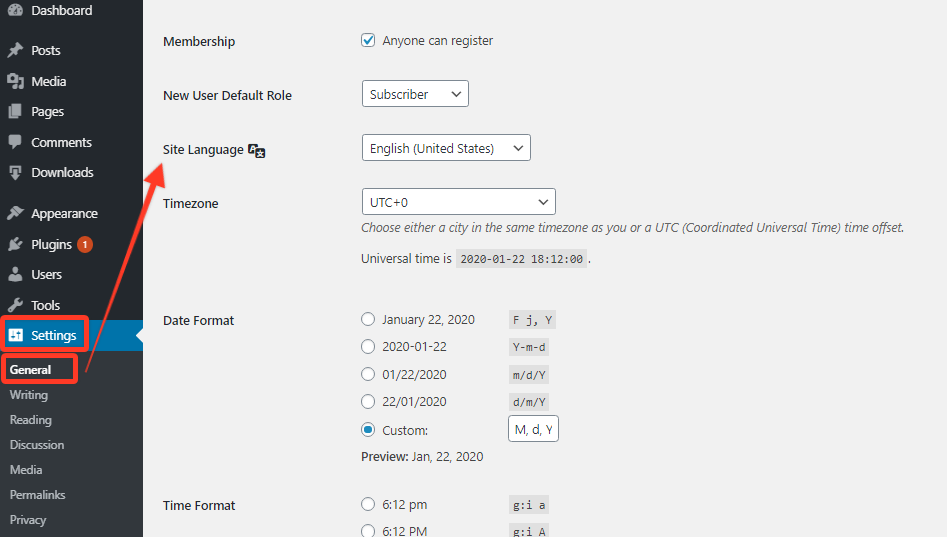 After that, on the General Setting window, scroll down to the bottom of the page. Here, you will see an option to select the site language.
Click on the drop-down menu of Site language and select your preferred language from it.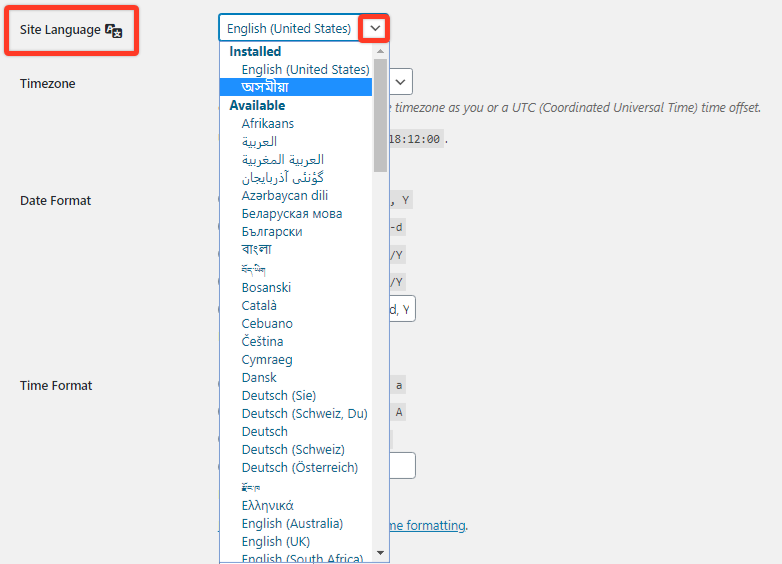 So to make your selection save, click the button of Save changes.
That's it. Now you change your WordPress site language.
But sometimes, you may face a situation where you don't get your desired language from the preinstalled language. In that situation, you must have installed the language manually. In the section below, we will describe how you can do this.
Manually Changing Site Language into an Unavailable Language
Well, in this case, you can install the language files manually with the help of the following procedures.
To install the Unavailable Language, go to the WordPress translation team website. Here you will find a list of languages WordPress supports and their translation status of the core project. Now, find your desired language on the page.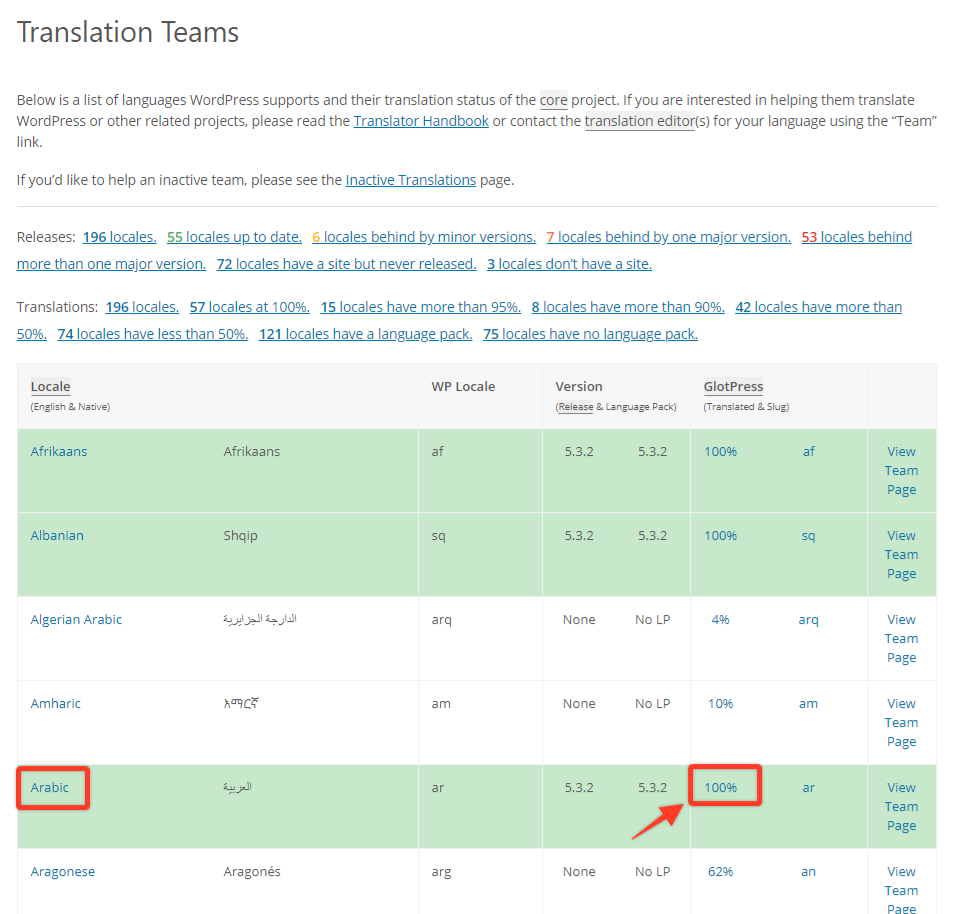 Next, After finding the language, on the right of the language, click on the percentage value. This percentage will help you to understand the status of the translation progress in your language.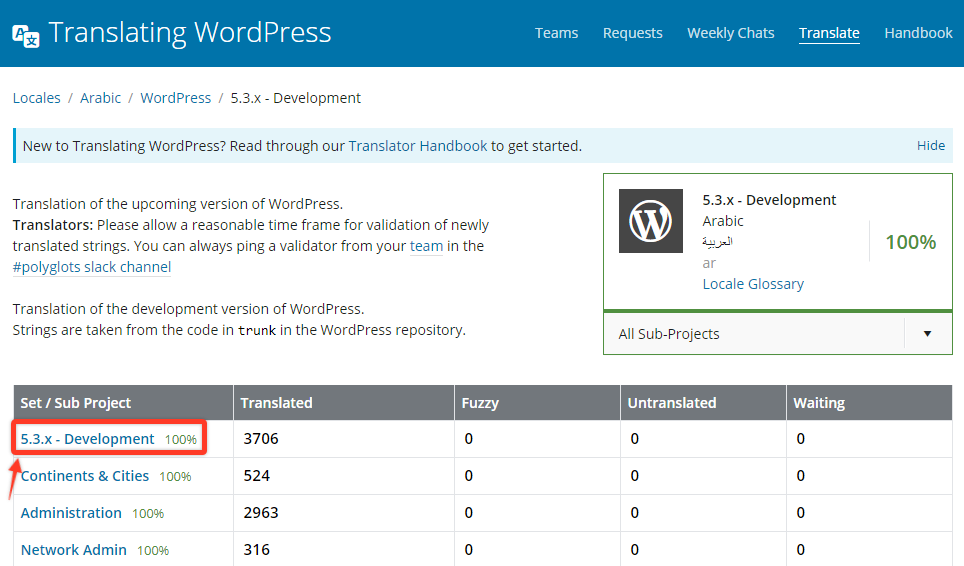 After clicking on it, it will take you to a new ‌interface. Here, click the latest WordPress version number for your installation on the Set / Sub Project column.  

Once you go to another page of WordPress translation, scroll down at the bottom of the project page until you see the export section. Now, from the second dropdown as the export file type, select Machine Object Message Catalog (.mo) and click Export. Once you have selected the export option the .mo file is downloaded and it is saved on your local computer.
After opening the file by extracting the zip folder on your computer, you will now need to connect it to your website.
There are two methods you can use to upload the translation to your website as using an FTP client or the cPanel's file manager.
To use an FTP client such as FileZilla or FireFTP, first, install it on your computer. Then head over to the wp-content/languages/ folder in your site's directory, and upload the downloaded file on it. If you don't find the Languages folder in the wp-content directory, you'll have to create a new language folder on it and upload the .mo file in the languages folder and you can now refresh your file manager before closing it.
Once you have uploaded the file, again return to your WordPress admin area. Then go to Settings → General page and scroll down to the site language option. Now, you can select the language you've just installed from the drop-down menu and click on the save changes option.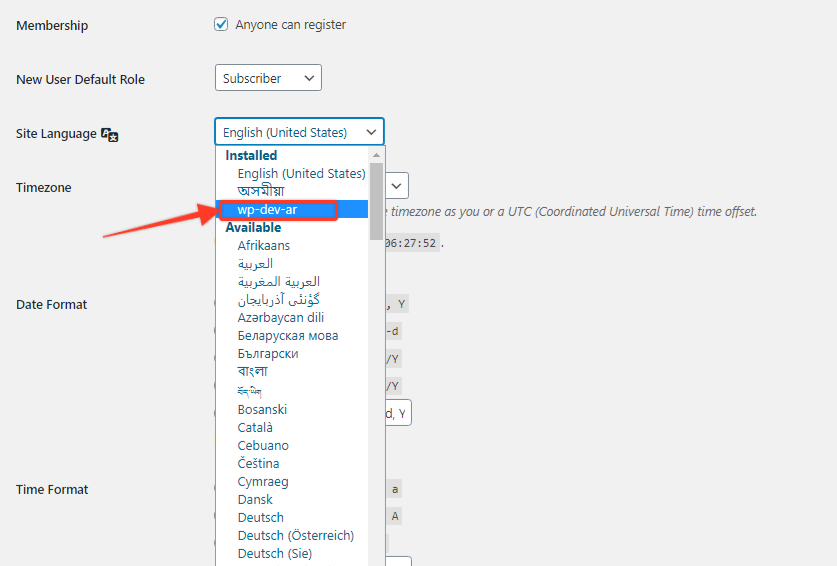 Now you finally change your site language to your preferred Language.
Conclusion
In summary, WordPress offers language support to create a website in your language. It allows the built-in language options as well as the open-source translation platform to translate your website without using any other plugin.
For getting to know more about WordPress's built-in feature you may check our WordPress-related content. 
If you get help from this article, please subscribe to our YouTube channel to get more tutorials related to WordPress. You can also join our Facebook page to update yourself with more tips, solutions, offers, and so on.
We appreciate further comments, support, or suggestions through the comment section!