General Settings menu is divided into four different sections, these are i. Basic Settings ii. Email Settings iii. SMTP settings and iv. Advanced Settings
Basic Settings

Post Subscription Post Type: If you want to activate post subscription feature so that user only registered to get update for specific posts he/she registered. Check post type you want to add support for post subscription. For example, if you enable this feature for default post type, you will see a post subscribe form to every post in WordPress front end. For details refer this section.
Email Settings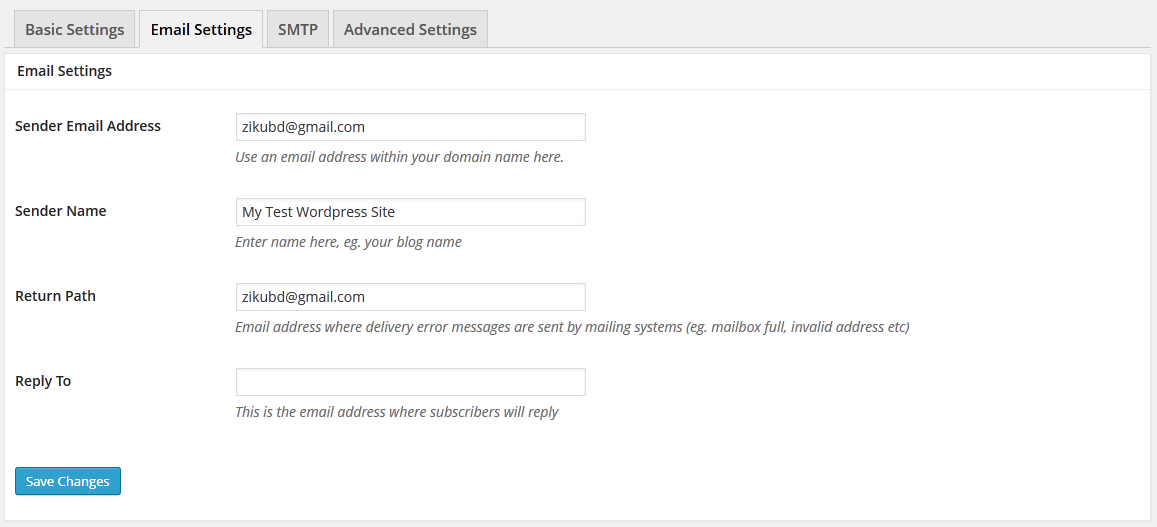 Sender Email Address: Use an email address within your domain name here. It is a good practice to use an email address within your domain, eg. contact@yourdomain.com. Some providers or generally the mail servers can block sending emails due to a domain mismatch.
Sender Name: Enter sender name here. Note that setting a name on the sender data produced a message blocking on a Windows based hosting space: you can leave that name empty if you want.
Return Path: Email address where delivery error messages are sent by mailing systems (eg. mailbox full, invalid address etc) If email do not seem to delivered successfully, empty this field. If you want to use this field, use an address in your domain not gmail address.
Reply To: This is the email address where subscribers will reply. Like Return path, sometime setting this field can lead to blocked email and you should set it to an address in your domain.
SMTP Settings
If you want to use SMTP feature, you can use this settings.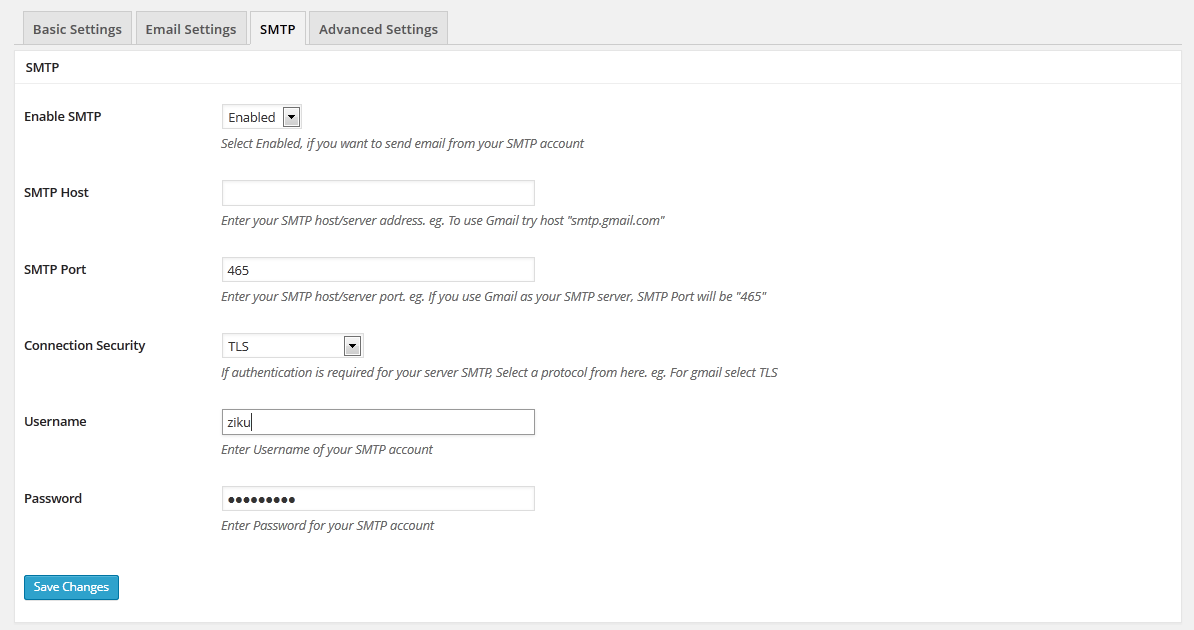 Advance Settings

Max Emails Per Hour: Email provider sets limits on sending emails, for example Hostgator limits 500 emails per hour, Dreamhost limits 100 emails per hour, Go Daddy limits 1000 emails per day using their SMTP, Gmail limits 500 emails per day. Set a value smaller then your server limit. Given limit is divided by 12 ie. emails will be sent every five minutes time interval.
PHP Max Execution Time: PHP has a time limit known as Maximum Execution Time to execute a request. If this limit exceeds, php engine force kill the process. Sending many emails may take longer then allowed time limits (default value is 30 second). If you want to extends this limit, you can specify it here (in seconds). Note that, if PHP running in safe mode will ignore this setting.
Last updated on Feb 20, 2016
Need More Clarification?
For any technical issue, if you are already using pro version please post in pro forum and free version users please post in free forum. Otherwise, if you have any pre-sale or order related query please contact live chat support team. For technical support.