How To Set Up WooCommerce Google Shopping Ads
Every WooCommerce store owner needs to put in some extra effort to promote their products and get more visibility. To achieve that reach or visibility, they should take advantage of the WooCommerce Google Shopping Integration. Google Shopping Ads is one of the best platforms to spread product information in both local and worldwide markets. It is a tool that helps you upload your product data to Google and make it appear on Google Shopping, Google Search, and other places across the web.
So in this article, we will show you how to set up WooCommerce Google Shopping Ads. But before that, we will go through what WooCommerce is, What Google Shopping Ads are, and the benefits of Google Shopping Ads for WooCommerce. Let's dive into it.
What is WooCommerce?
WooCommerce is an open-source e-commerce plugin for WordPress, one of the most popular website platforms in the world. With WooCommerce, users can easily create and manage online stores that sell physical and digital products, subscriptions, and even bookings and appointments. It provides a range of features and customization options, including inventory management, payment gateways, shipping options, tax calculations, and more. It also has a large community of developers and users who create plugins and extensions that can be used to extend the functionality of the platform.
WooCommerce is free to download and use, but users can choose to purchase additional extensions and themes to enhance their store. It is highly flexible and easily customizable to suit the needs of businesses of all sizes and industries.
What are Google Shopping Ads?
Google Shopping Ads are a type of advertising format that allows online retailers to promote their products on Google search results pages and Google Shopping. These ads are visually rich and display product images, titles, prices, and store information, making them highly effective for driving traffic and sales.
To create a Google Shopping Ad campaign, retailers must set up a product feed in Google Merchant Center and link it to their Google Ads account. This feed contains information about the products they want to advertise, such as the product name, description, price, image, and other attributes. Google uses this information to create ads that are relevant to the user's search query and display them on the search results page or on Google Shopping.
Google Shopping Ads uses a cost-per-click (CPC) model, which means that retailers only pay when a user clicks on their ad. The cost of a click depends on factors such as the competition for the keyword, the quality of the ad, and the retailer's bid for the ad placement.
One of the advantages of Google Shopping Ads is that they provide a more visual and immersive experience for users, making it easier for them to discover and compare products. They also allow retailers to reach a wider audience and improve their ROI by targeting users who are more likely to convert.
Benefits of Google Shopping Ads for WooCommerce:
There are several benefits of using Google Shopping Ads for WooCommerce:
Increased visibility: Google Shopping Ads allow you to showcase your products at the top of the search results page, giving them increased visibility to potential customers.
Better targeting: With Google Shopping Ads, you can target users who are actively searching for the products you sell, increasing the chances of driving relevant traffic to your store.
Higher conversion rates: Google Shopping Ads are highly visual and provide users with detailed information about your products, which can lead to higher click-through rates and conversion rates.
Lower cost per click: Google Shopping Ads tend to have a lower cost per click than traditional text ads, which can result in a higher return on investment (ROI) for your advertising spend.
Easy setup and management: WooCommerce has built-in integration with Google Merchant Center, which makes it easy to create and manage your product feeds and ads directly from your store.
Detailed reporting: Google provides detailed reporting on your ad performance, allowing you to track metrics such as clicks, impressions, and conversions, and make data-driven decisions to optimize your campaigns.
Set Up WooCommerce Google Shopping Ads:
It's not as difficult as it may appear to set up WooCommerce Google Shopping Ads. For this tutorial, we're going to assume that your WooCommerce store has products in it and is ready to go.To display advertisements for those products follow the steps listed below:
Step 1: Set Up a Google Merchant Account
Google Merchant Center is a platform that allows you to create and manage your Google product feed for woocommerce, which contains information about your products such as the title, description, image, price, and availability. You will need to create an account and submit your product feed to Google for review. So the first thing you'll need to do is set up an account:
Creating a Google Merchant Center Account is a breeze if you already have a Google Account. Start by heading over to the Google Merchant Center website and clicking on the "Get Started" button.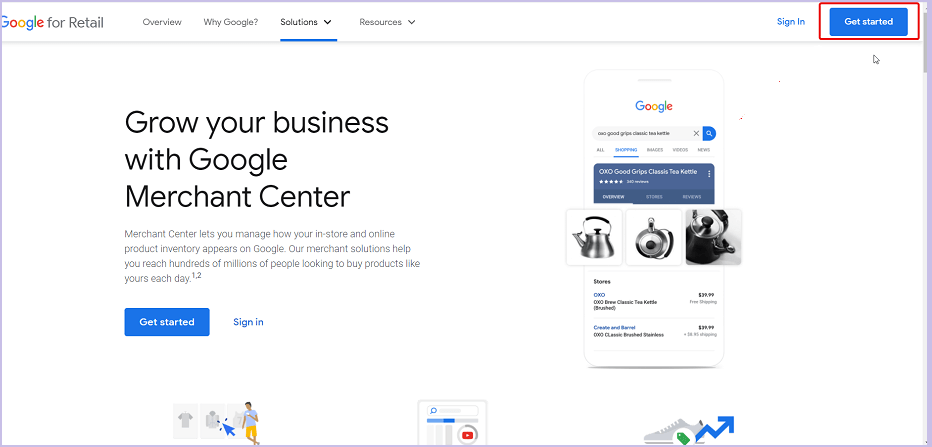 Sign in with your Google Account and then enter the details associated with your business like Business Country, Timezone, and Business Name.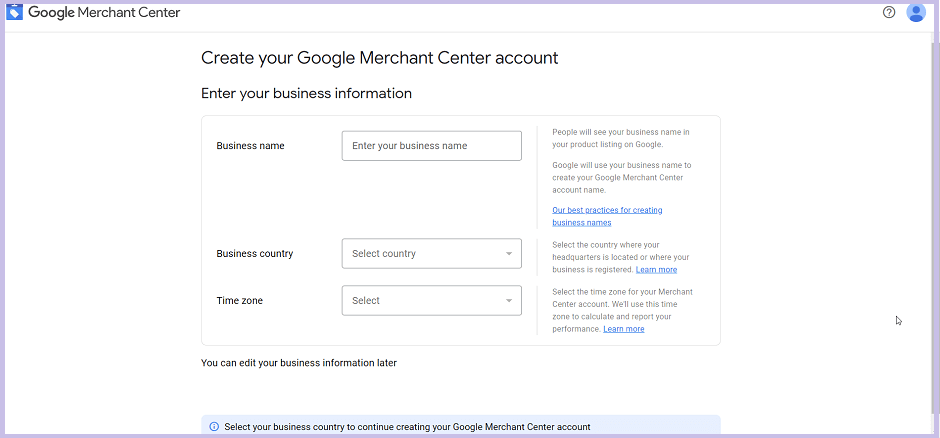 After that, you need to verify your business website. For that, click on the "verify & claim website", enter your website URL, and add a meta tag or upload an HTML file to your website.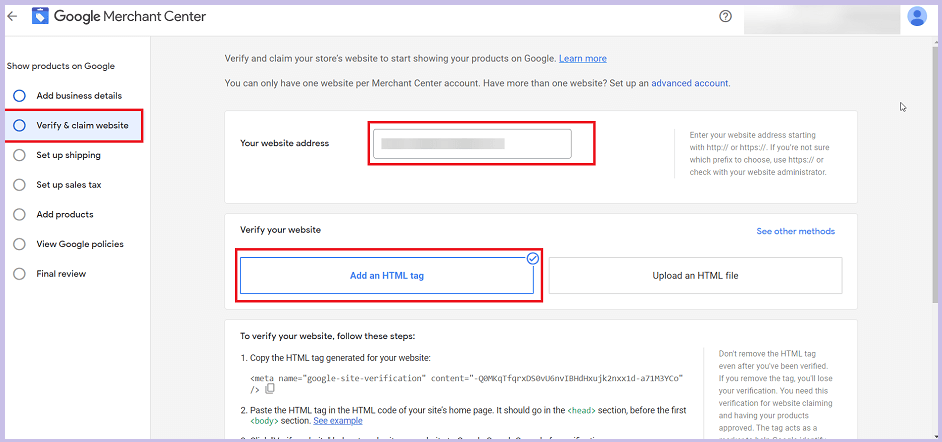 Now, link this account with your Google Ads account. After that, you can select the "Shopping Ads" option under the question about the programs that fit your objectives.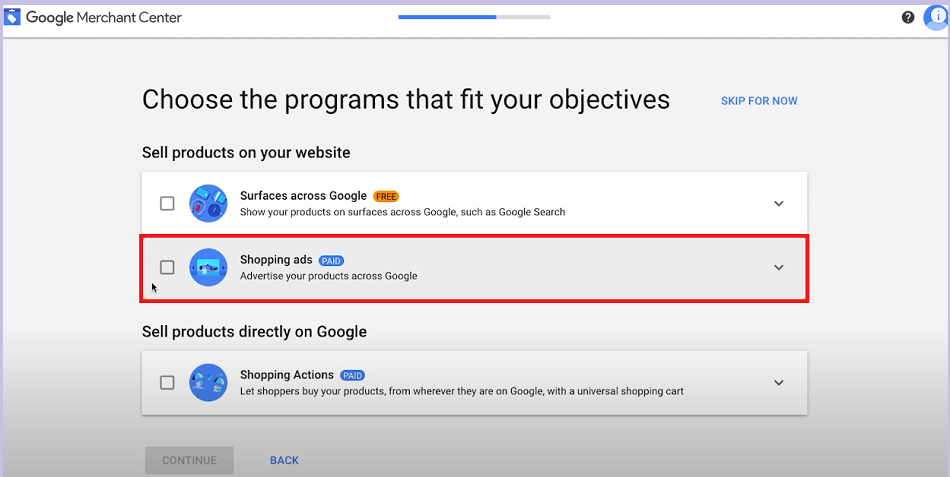 Step 2: Add your WooCommerce Product Data to Merchant Center
After configuring your Google Merchant Center account and linking it to your Google Ads account, it's time to import your WooCommerce products. You can do that manually or by using a plugin.
The manual process works best for new online stores that do not have too many products on their website. If you don't want to add product information manually to Merchant Center, an easy alternative method is to use WooCommerce "Google Listings & Ads" plugin.
To start with, login to your WordPress admin dashboard and navigate to "Plugins > Add New". Now search for "Google Listings & Ads" and then click Install.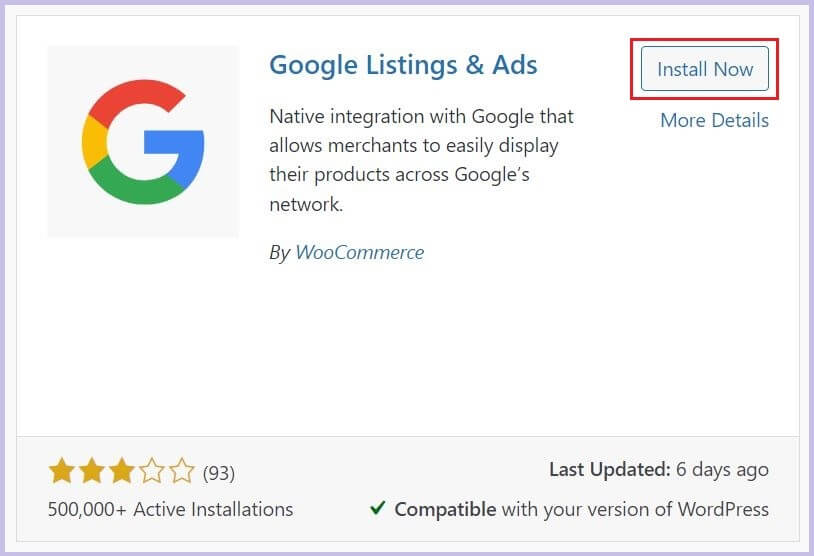 Once the installation is complete, activate the plugin which will redirect you to the Dashboard where you can get started with the setup process.
Here, click on the "Set up free listings in Google" button as shown below.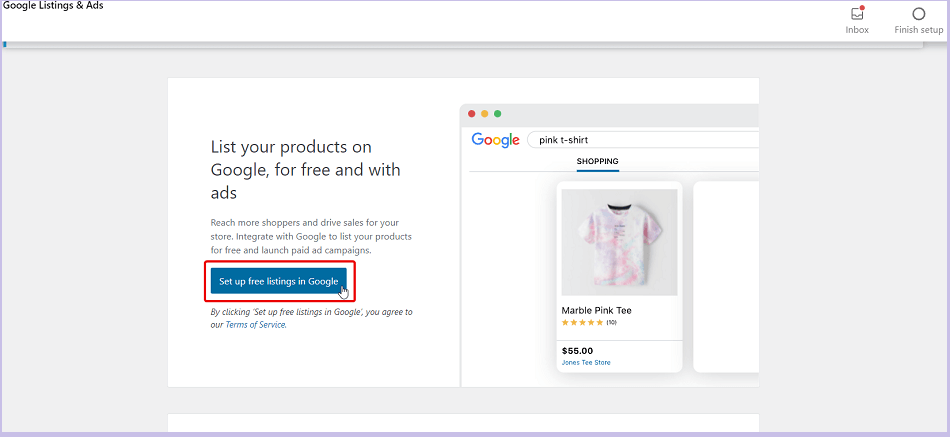 Afterward, make sure you're logged into the correct WordPress.com account, and then connect your Google account, and Google Merchant Center account.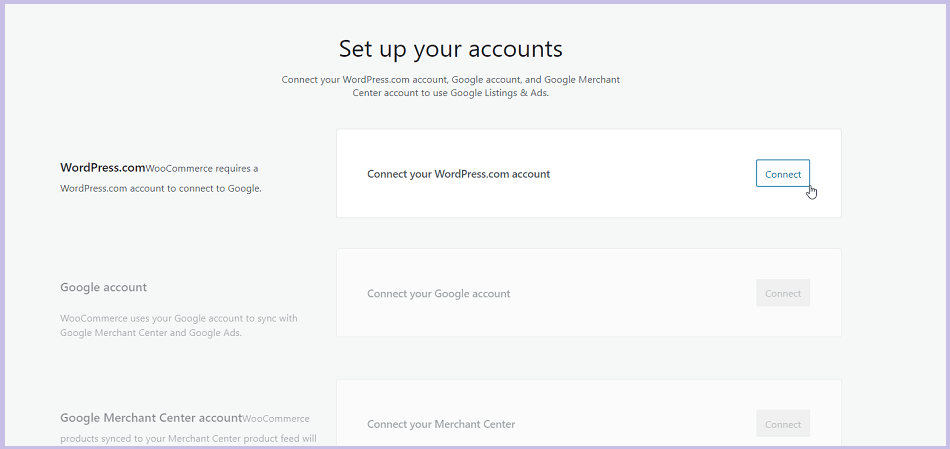 Next, you need to choose your audience and which countries you want your ads to display in. You can select all countries, or you can get specific and choose only certain locations. then click the "Continue" button.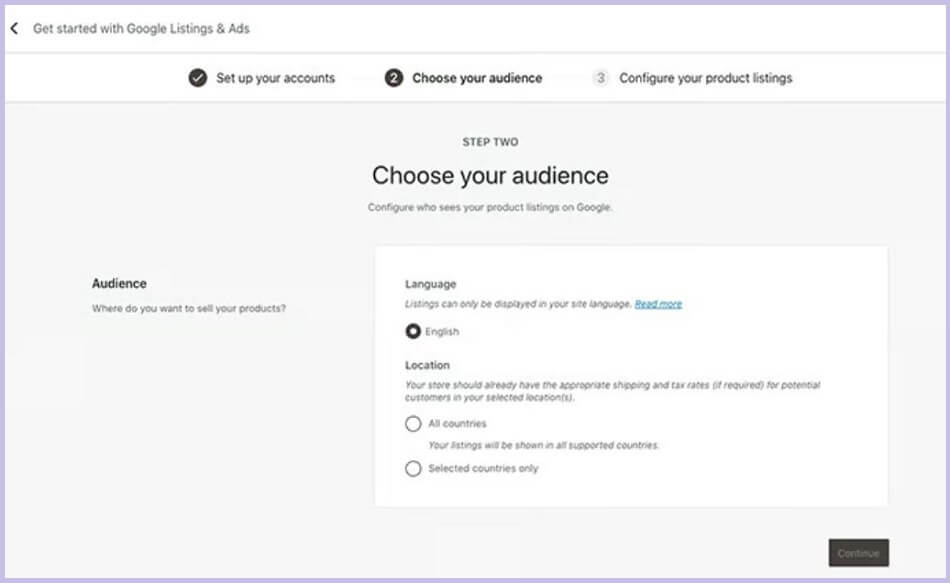 The final page of the setup process will ask you to review how your listing will display and define settings for tax and shipping. It is important to note that you need to add the correct shipping and taxing information when choosing the countries where you want to display your WooCommerce Google Shopping ads.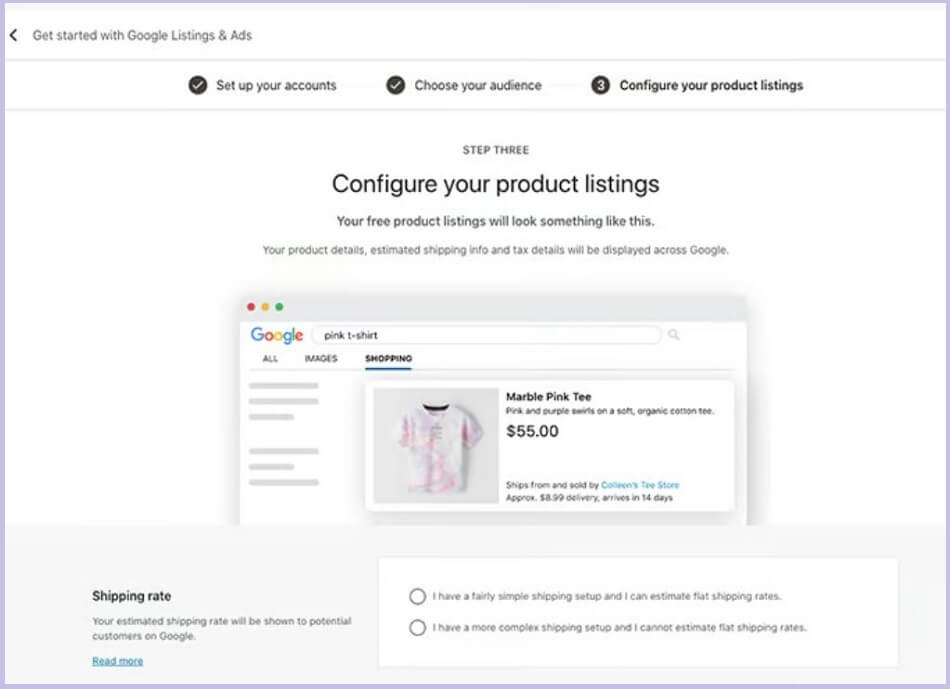 When setting up your Google product feed for woocommerce, you should review Google Merchant Center guidelines.
Once you're done, Google will review your product listings which could take up to 3-5 business days. If your listings are approved, your products will be instantly visible on Google.
Step 3: Create your Shopping Campaign
Once all your products are imported and Google has reviewed your products, you can create a paid text ads campaign. To create a campaign, return to your Merchant Center dashboard and look under Pending tasks, then hit the Continue button.

The next screen will let you choose which products you want to display. You'll also be able to set up tax and shipping details, as well as other relevant product ad information.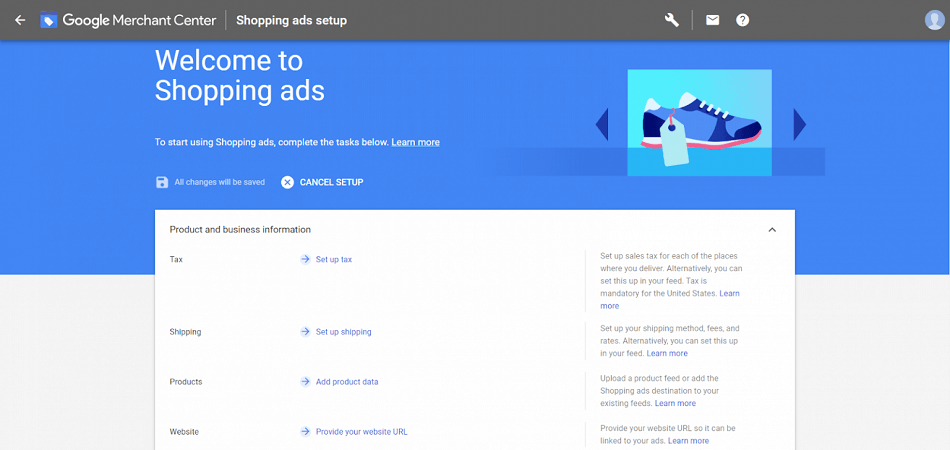 You can specify the budget and duration of your Smart Shopping campaign after you've chosen your products.
Be sure to review the guidelines and recommendations, so you don't miss anything important.
Conclusion:
WooCommerce provides built-in integration with Google Merchant Center, which makes it easy to set up and manage your product feed and Google Shopping Ads campaigns directly from your store. By leveraging the power of Google Shopping Ads, you can increase the visibility of your products, drive more traffic to your store, and boost your sales and revenue.
Hope, this article helped you to integrate your WooCommerce store with Google Shopping Ads. To learn more about WordPress, you may check our WordPress Tips and How-Tos.
If this article helps you, then please subscribe to our YouTube channel to get more tutorials related to WordPress. You may join our Facebook page to update yourself with more tips, solutions, offers, and so on.
You may also ask any questions you have in the comment or want us to write on some specific topics you have in your mind. We appreciate your further comments, support, or suggestions!